Expression of Interest – Senior Advisor for Locally Led Action on Adaptation Consulting Services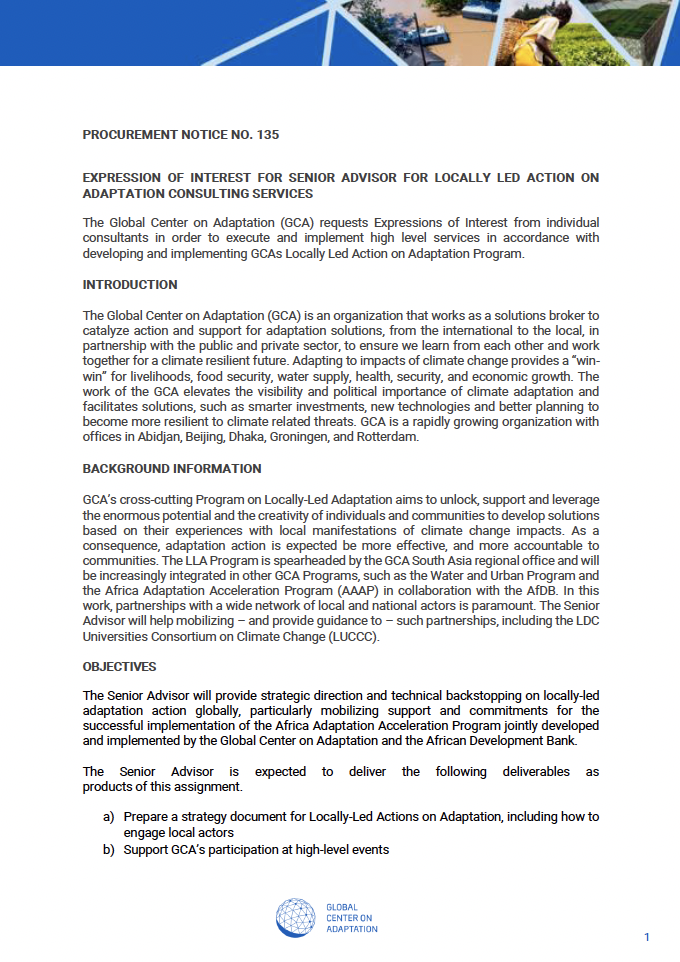 The Global Center on Adaptation (GCA) requests Expressions of Interest from individual consultants in order to execute and implement high level services in accordance with developing and implementing GCAs Locally Led Action on Adaptation Program.

INTRODUCTION
The Global Center on Adaptation (GCA) is an organization that works as a solutions broker to catalyze action and support for adaptation solutions, from the international to the local, in partnership with the public and private sector, to ensure we learn from each other and work together for a climate resilient future. Adapting to impacts of climate change provides a "win-win" for livelihoods, food security, water supply, health, security, and economic growth. The work of the GCA elevates the visibility and political importance of climate adaptation and facilitates solutions, such as smarter investments, new technologies and better planning to become more resilient to climate related threats. GCA is a rapidly growing organization with offices in Abidjan, Beijing, Dhaka, Groningen, and Rotterdam.

BACKGROUND INFORMATION
GCA's cross-cutting Program on Locally-Led Adaptation aims to unlock, support and leverage the enormous potential and the creativity of individuals and communities to develop solutions based on their experiences with local manifestations of climate change impacts. As a consequence, adaptation action is expected be more effective, and more accountable to communities. The LLA Program is spearheaded by the GCA South Asia regional office and will be increasingly integrated in other GCA Programs, such as the Water and Urban Program and the Africa Adaptation Acceleration Program (AAAP) in collaboration with the AfDB. In this work, partnerships with a wide network of local and national actors is paramount. The Senior Advisor will help mobilizing – and provide guidance to – such partnerships, including the LDC Universities Consortium on Climate Change (LUCCC).

OBJECTIVES
The Senior Advisor will provide strategic direction and technical backstopping on locally-led adaptation action globally, particularly mobilizing support and commitments for the successful implementation of the Africa Adaptation Acceleration Program jointly developed and implemented by the Global Center on Adaptation and the African Development Bank.

The Senior Advisor is expected to deliver the following deliverables as products of this assignment.
Prepare a strategy document for Locally-Led Actions on Adaptation, including how to engage local actors
Support GCA's participation at high-level events
Support enhanced participation of African countries in CVF events and programs, advising on opportunities to link to the Africa Adaptation Acceleration Program
Advise and support the development of the South Asia work program.
Work with the GCA to enhance the participation of African Universities, and mobilize these partners for collaborative work with GCA.
REQUIREMENTS
If you wish to submit a proposal to provide the above services, please provide evidence of the following:
That you are a registered legal entity in your jurisdiction (if applicable) please provide Registration Documentation /Company Profile/CV or for sole experts please provide a CV.
That your expert/s each have at least 20 years professional experience with international and/ or intergovernmental organizations in senior staff roles in climate adaptation in developing countries including Africa (Please provide documentary evidence).
That your expert/s have led at least two projects in the last five years in the areas of climate adaptation activities in Africa (Please provide a short portfolio of case studies).
HOW TO EXPRESS INTEREST
The GCA looks forward to EOI submissions to the following email address only: procurement@gca.org

The closing date for submissions is 22nd October 2021, 18.00 CET. Only those who have provided the required information in their EOI will be invited to submit proposals.
GCA RFPs may be republished in accordance with the Creative Commons Attribution – NonCommercial – NoDerivatives 4.0 International Public License, and in accordance with our Terms of Use.