Expression of Interest: Senior Integrated Water Resources Management (IWRM) Specialist and Project Manager (Consultant)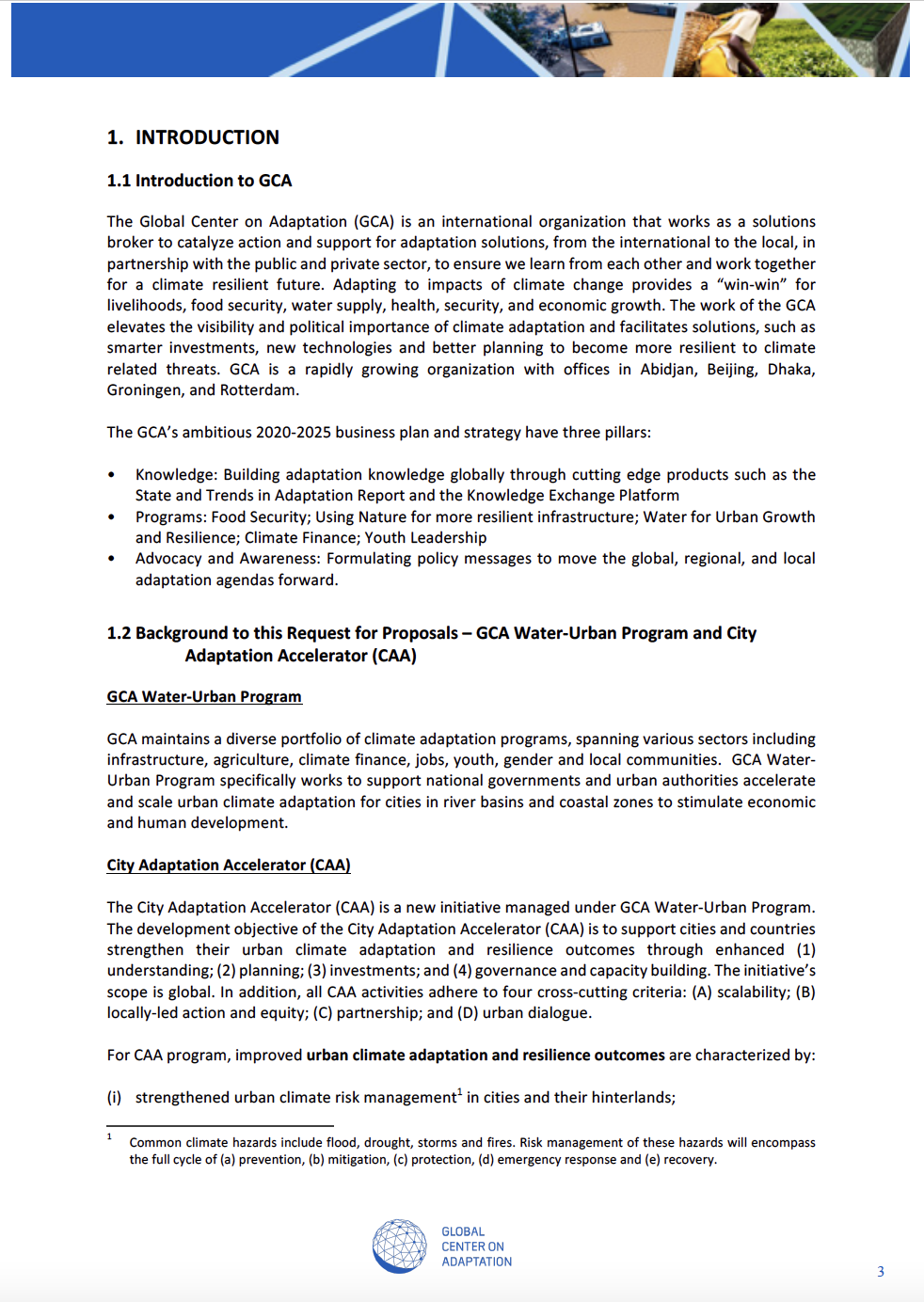 INTRODUCTION
The Global Center on Adaptation (GCA) is an international organization that works as a solutions broker to catalyze action and support for adaptation solutions, from the international to the local, in partnership with the public and private sector, to ensure we learn from each other and work together for a climate resilient future. Adapting to impacts of climate change provides a "win-win" for livelihoods, food security, water supply, health, security, and economic growth. The work of the GCA elevates the visibility and political importance of climate adaptation and facilitates solutions, such as smarter investments, new technologies and better planning to become more resilient to climate related threats. GCA is a rapidly growing organization with offices in Abidjan, Beijing, Dhaka, Groningen, and Rotterdam.

The GCA's ambitious 2020-2025 business plan and strategy have three pillars:
Knowledge: Building adaptation knowledge globally through cutting edge products such as the State and Trends in Adaptation Report and the Knowledge Exchange Platform
Programs: Food Security; Using Nature for more resilient infrastructure; Water for Urban Growth and Resilience; Climate Finance; Youth Leadership
Advocacy and Awareness: Formulating policy messages to move the global, regional, and local adaptation agendas forward
BACKGROUND INFORMATION: GCA Water-Urban Program and City Adaptation Accelerator (CAA)

GCA Water-Urban Program
GCA maintains a diverse portfolio of climate adaptation programs, spanning various sectors including
infrastructure, agriculture, climate finance, jobs, youth, gender and local communities. GCA Water-Urban Program specifically works to support national governments and urban authorities accelerate and scale urban climate adaptation for cities in river basins and coastal zones to stimulate economic and human development.

City Adaptation Accelerator (CAA)
The City Adaptation Accelerator (CAA) is a new initiative managed under GCA Water-Urban Program. The development objective of the City Adaptation Accelerator (CAA) is to support cities and countries
strengthen their urban climate adaptation and resilience outcomes through enhanced enhanced (1) understanding; (2) planning; (3) investments; and (4) governance and capacity building. The initiative's scope is global. In addition, all CAA activities adhere to four cross-cutting criteria: (A) scalability; (B)locally-led action and equity; (C) partnership; and (D) urban dialogue.

For CAA program, improved urban climate adaptation and resilience outcomes are characterized by:
strengthened urban climate risk management1 in cities and their hinterlands;
improved climate adaptive spatial planning2 at the municipal and regional levels;
enhanced water resources management for more equitable access to ecosystem benefits;
enhanced quality, consistency, inclusiveness and integration of urban drinking water, sanitationand solid waste management services; and,
improved urban livability and public health from climate risks stemming from heat stress and disease.
In Africa, CAA is partnering with international development organizations (such as the African Development Bank – AfDB) and national and local governments to accelerate and scale high-impact climate adaptation and resilience building efforts in cities. More specifically, CAA flexibly deploys a suite of decision-support tools as well as technical and financial advisory services on a demand basis – enabling cities to address climate-related urban challenges identified as the biggest impediments to long-term development. CAA works across multiple fronts – from hard investments (i.e. infrastructure), development policy (i.e. legislation, regulation) and service delivery (both formal and informal) – bringing together a diverse swath of actors ranging from national to municipal governments, local communities, international development organizations, multilateral development banks and the private sector.

CAA Support in Freetown (Sierra Leone)
The Government of Sierra Leone (GoSL) through the Ministry of Finance (MoF) requested the African Development Bank (AfDB) to take the lead in implementation of the "Freetown WASH and Aquatic Environment Revamping Project." The project has the overall objective of improving water supply and sanitation services while ensuring the sustainability of the vital aquatic ecosystem in the Western Area of Freetown. The proposed funding for the project is to be undertaken by several development partners including AfDB; OPEC Fund for International Development (OFID); Islamic Development Bank (IsDB); Kuwait Fund for Arab Economic Development; Saudi Fund for Development; ECOWAS Bank for Investment and Development; and Green Climate Fund (GCF). In light of projected adverse impacts of climate change, and in line with the project objectives, GoSL and AfDB have agreed to elaborate a proposal for accessing additional GCF funding in the amount of USD 33.8 million to undertake critical catchment management activities to strengthen the climate resilience of the Western Area of Freetown, improve livelihoods of local communities and ensure overall sustainability of the project interventions. Upon initial submission of GCF funding proposal, AfDB has received feedback and comments from GCF.

GCA is partnering with AfDB by leveraging expert consultant services in the update and completion of the GCF funding proposal.

The specific objectives of this assignment
GCA will contract a senior-level individual consultant to fulfil a two-fold objective: (i) provide technical leadership in the identification of inclusive, climate-adaptive, water-related investments under the proposed GCF funding proposal for the "Freetown WASH and Aquatic Environment Revamping Project" (on topics pertaining to IWRM, water supply, catchment management, and drainage); and (ii) coordinate and package individual expert inputs (e.g. Gender, Finance, Sanitation, Climate Mitigation as well as Environmental and Social Safeguards) in key outputs required for the preparation of GCF funding proposal.
HOW TO EXPRESS INTEREST
GCA is requesting the submission of a proposal to conclude a contract for an individual consultant, with extensive experience working on IWRM and project management in Africa.

If you are interested in participating in this "Request for Proposals", you are requested to submit your proposal no later than:
WEDNESDAY, 06 JULY 2022 at 18.00 CET

Your tender and all supporting documents must reach this email address by Close of Business (6pm CET): procurement@gca.org
The tenders must be drafted in English and clearly marked in the email subject title: "REQUEST FOR PROPOSAL: "Senior IWRM / Project Management Consultant – Freetown (Sierra Leone)"

Please download the PDF document to find more details of the services and proposal requirements.
GCA reports may be republished iGCA RFPs may be republished in accordance with the Creative Commons Attribution – NonCommercial – NoDerivatives 4.0 International Public License, and in accordance with our Terms of Use.