COP26: A turning point for education as a key solution for climate challenges?
If we are to have any chance of staying within 1.5 degrees, education must have a much more prominent role than has so far been the case.
E xpectations were very high for the climate negotiations in Glasgow. COP26, six years after the Paris Agreement, was the first big meeting for countries to step up their ambitions. For many, it was a litmus test for whether the basic idea of the Paris Deal – to ratchet up ambition every five years – could deliver on its promise. As part of this increased ambition, several organizations and some of my colleagues were also hopeful that this COP could be a turning point for education as a key solution to climate challenges.

After participating for two weeks at the meetings, I came away both energized by the level of initiative and the possibilities ahead but also with a realization that much work is needed to make education a more central part of climate solutions – and the crucial need to ratchet up the education sector's own ambitions to deliver on this promise!

Three things stood out:
1. Ministers of education and environment meet at COP26
A meeting of environment and education ministers was held on Youth Day. It was hailed as a historic event, given the urgency of climate education for climate action! UK Secretary of Education Nadhim Zahawi noted that COP26 was not just about updating Nationally Determined Contributions but about everything that helps to address the challenge. Delegates agreed that teaching climate change issues and the introduction of environmental education in the curriculum would need to be a key part of climate strategies. This message was also echoed in other sessions of the day. The need for lifestyle and behavioral change – which depends heavily on education – was also identified as one of the 10 New Insights in Climate Science 2021.

What was striking, however, was the much more limited reference to education's vital role in preparing people for the green economy and the future demands of labor markets. Equally, the role of education in resilience, adaptation to climate impacts, and climate justice was virtually absent from the discussions and ministerial statements. While these topics were addressed in a few side events and reports released in the lead-up to the summit, education has clearly not managed to become part of critical conversations around the system transformations required for the climate response.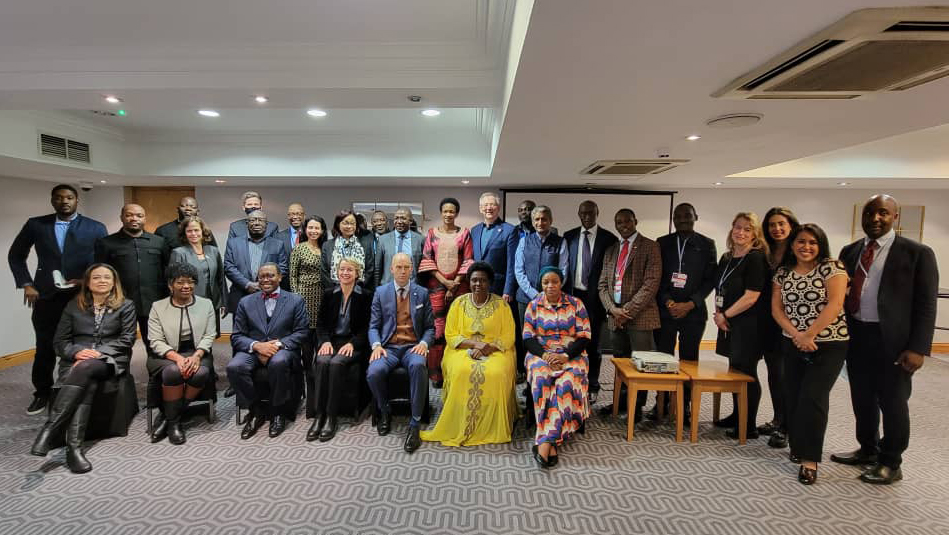 A meeting of environment and education ministers was held on Youth Day at COP26
2. Education has been painfully absent from the adaptation discussions, but it could be transformative
In the final hours of negotiations, the calls from developing nations who have done so little to cause the climate crisis but are suffering the most under its consequences became ever louder. Poignant interventions from drowning islands were blasted around the world. COP26 did not deliver on the promise to deliver $100 billion for developing nations but it did commit to doubling the support for adaptation. Some of this support should be directed to education as evidence suggests that it is perhaps the most effective investment to promote long-term resilience and adaptive capacity.

How to accelerate education for adaptation was the key topic of discussion at a Leaders Dialogue on Adaptation Day, co-hosted by the Education Commission and the Global Center for Adaptation. Ministers of environment and education from eight African and Latin American countries, leaders from international financial institutions, the private sector, and civil society all agreed that education has been absent from adaptation discussions. Many of the most-cited reports on adaptation, including the recently released State and Trends in Adaptation Report 2021: Africa, have yet to focus on education as a vital strategy for adaptation.

To address this gap, this group of leaders came together to forge an Education for Adaptation Accelerator (E4AA), which will aim to build the case for education for adaptation in the lead up to COP27. With plans to work with 10 climate vulnerable countries in Africa to ensure education and adapted education systems are a key part of national adaptation plans, the initiative's ambition is to build a global movement for change and action. Design meetings for the initiative will take place in the coming months.
3. Education can learn a lot from the climate sector in mobilizing momentum through track 2 initiatives
The most impressive part of the COP26 discussions was not what happened in the official negotiations room, but what unfolded outside.

Previously, I've suggested that education could learn how to mobilize "track two" processes towards action and tipping points from the climate sector. These processes –including multistakeholder coalitions, climate finance initiatives, private sector engagement, and citizen and civil society engagement – were on full display at COP26.

The commitments of $130 trillion of financial assets to net-zero, or billions of philanthropic dollars to nature were inspiring. Another highlight was the launch of the Global Energy Alliance for People and Planet which will explore the use of a novel Climate Innovative Finance Facility modelled on the International Finance Facility for Education. We hope both can become a reality in 2022 and help realize scaled-up financing for the energy transition as well as education.

One thing we know for certain: If we are to have any chance of staying within 1.5 degrees, education must have a much more prominent role than has so far been the case. COP26 may have been a dawning of this awareness. Next year's COP27 must have a dedicated Education Day to power up our sector's ambition and its transformative role in solving the climate crisis.
The ideas presented in this article aim to inspire adaptation action – they are the views of the author and do not necessarily reflect those of the Global Center on Adaptation.
Related blog posts: