Green Bonds for Resilience: Mobilizing Trillions for a Resilient Future
Catalysing the green bond market to direct capital toward resilience offers a win-win value proposition to investors, issuers, and governments alike
W hile the scale of future adaptation needs will depend on the success of current mitigation efforts, there exists a huge investment gap to address the climate impacts that are already locked-in. Despite international recognition that both mitigation and adaptation efforts are essential, adaptation funding remains a far smaller portion of total climate finance. UNEP estimate that by 2030, adaptation needs could reach $300bn per year in developing countries, while the Climate Policy Initiative found that adaptation finance flows reported in 2018 reached only $30bn, of which only 500m was from private finance.
The COVID crisis has revealed opportunities to "build forward better" and has intensified the imperative to invest in the resilience of our societies, economies, and ecosystems. Green bonds can be used to contribute to this goal.
Why green bonds?
Green bonds are already financing resilience: research from the Global Center on Adaptation (GCA) and Climate Bonds Initiative (CBI), in cooperation with the European Bank for Reconstruction and Development (EBRD), has found that more than 900 green bonds that have been issued to date include climate resilience components. We have also seen green bond issuances focusing largely or even entirely on climate resilience, such as the EBRD's USD 700 million Climate Resilience Bond issuance in 2019. Though this represents only a fraction of the green bond market, it demonstrates that green bonds are fit-for-purpose for financing resilience. Investors are hungry for green bonds, with demand far outstripping supply. For issuers, a green bond with resilience features would see the same benefits as any other green bond (i.e., those focused on low-carbon investments) including access to low-cost capital, broadening the investor base, greater visibility and recognition of the commitment to resilience goals, and potentially unlocking concessional blended finance.
How do we leverage the opportunity?
But why is adaptation and resilience so underrepresented in this market? And how can we address the missed opportunity to leverage one of the most prominent innovations in the area of sustainable finance to address resilience?
To answer these questions, and provide immediate guidance to the market, the Global Center on Adaptation and the Climate Bonds Initiative, in cooperation with the European Bank for Reconstruction and Development (EBRD), have produced two strategic reports to be launched in early 2021. The first paper, Green Bonds for Resilience: State of Play and Market Readiness aims to deepen current understanding of the current size of this market and the barriers to scaling and identifying catalytic opportunities. The report applies a market readiness framework (depicted below) as a tool to understand the evolution of opportunities and barriers for financing adaptation and resilience through green bonds, with lessons learned from 4 markets in Africa.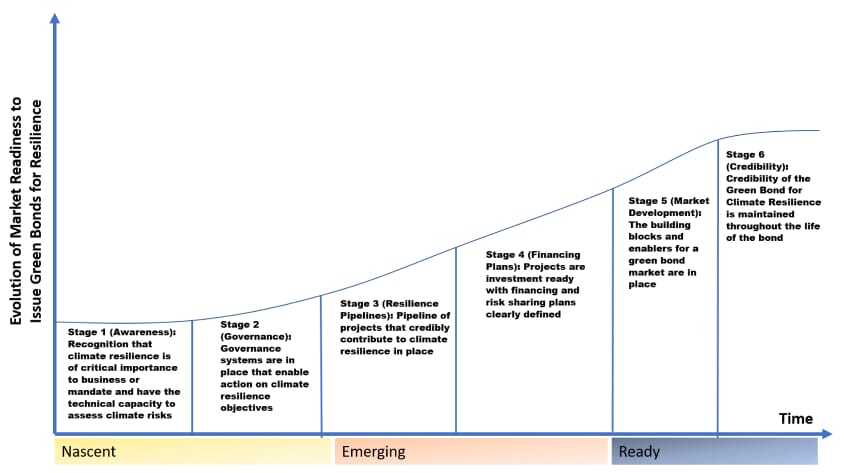 The second report, Green Bonds for Resilience: An Issuers Guide provides practical step-by-step guidance on how to issue a Green Bond for Resilience. This Guide addresses the key challenges faced by issuers of resilience related bonds, providing practical advice and guidance to navigate those challenges. A summary of these FAQs is now available on the Climate Bonds Initiative's website.
This work has been guided by the Green Bonds for Resilience Expert Group, comprising 25 experts representing, think tanks, investors, asset managers, and financial institutions that are increasingly interested in the adaptation agenda.
These research products will be accompanied by an investor engagement drive through 2021, to mobilize a group of interested and forward leaning financiers interested in putting the theory into practice.
You can issue a Green Bond for Resilience, now!
Though there is still work to be done in terms of providing comprehensive guidance to the market on Green Bonds for Resilience, for example around impact reporting, the path to issuing a Green Bond for Resilience has already been forged.
Watch this space
This research will lay the foundation for action over the coming years. The GCA, Climate Bonds Initiative, and partners are committed to working with countries to operationalise this guidance, and support the mobilisation of billions of additional dollars for resilience from the market over the coming years.
The ideas presented in this article aim to inspire adaptation action – they are the views of the author and do not necessarily reflect those of the Global Center on Adaptation.
Related blog posts: