GCA CEO discusses the strategic value of adaptation with President Akufo-Addo of Ghana
During an official visit, GCA CEO Prof. Dr. Patrick Verkooijen met President Nana Akufo-Addo to discuss Ghana's strategic priorities for adaptation
A ccra, Ghana, 25 March 2022 – The CEO of the Global Center on Adaptation (GCA), Prof. Dr. Patrick Verkooijen, met President Nana Akufo-Addo of Ghana on 24th March, during his visit to the West African country.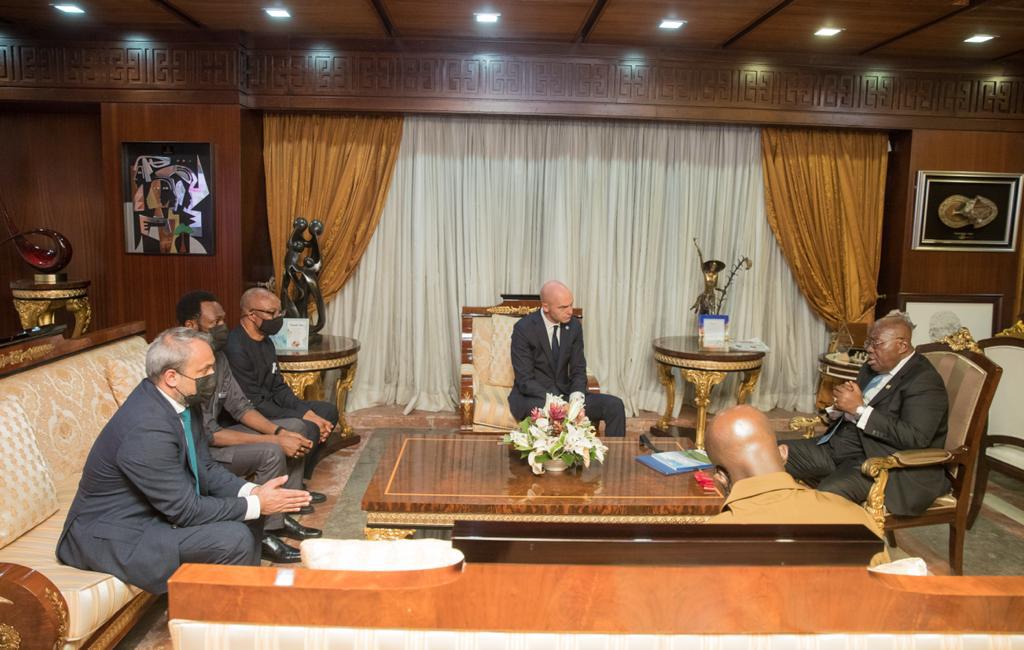 Prof. Verkooijen updated President Akufo-Addo on the progress of GCA's flagship Africa Adaptation Acceleration Program (AAAP), an initiative led jointly with the African Development Bank that aims to mobilize USD25 billion to scale up transformative actions to accelerate adaptation, address the impacts of Covid-19 and climate change on the African continent.

This meeting followed a previous strategic exchange on the AAAP between Prof. Verkooijen and President Akufo-Addo at COP26 in November 2021, after President Akufo-Addo spoke at the Africa Adaptation Acceleration Summit, a COP26 Leaders' Event, to discuss the importance of climate adaptation.

During their meeting in Accra, Prof. Verkooijen and President Akufo-Addo discussed Ghana's strategic priorities for adaptation, and the President welcomed the publication of Ghana's first national assessment to explore how to boost resilience of Ghana's infrastructure. Prof. Verkooijen traveled to Ghana to launch the report "Ghana: Roadmap for Resilient Infrastructure in a Changing Climate", developed by GCA, in collaboration with the University of Oxford, the United Nations Office for Project Services (UNOPS), and the United Nations Environment Programme (UNEP), under the leadership of Ghana's Ministry of Environment, Science, Technology and Environment during a Ministerial Dialogue in the Ghanaian capital.

President Akufo-Addo accepted Prof. Verkooijen's invitation to be a keynote speaker at the Africa Adaptation Finance Forum during the Friends of GCA high-level dialogue that will take place on 5th September at GCA headquarters in Rotterdam, the Netherlands.
Related posts: