Global Center on Adaptation High-Level Communique: The Adaptation Acceleration Imperative for COP26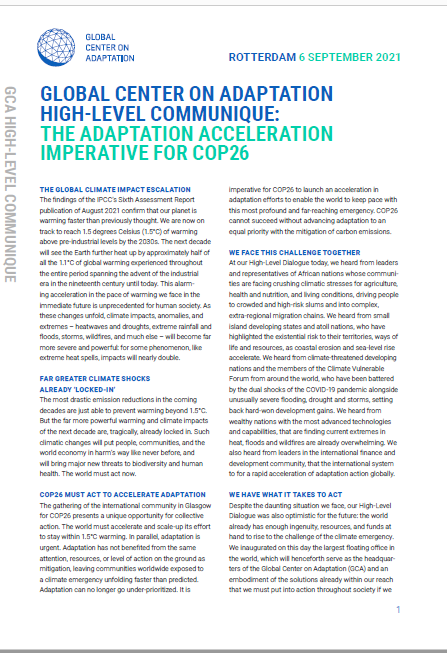 THE GLOBAL CLIMATE IMPACT ESCALATION
The findings of the IPCC's Sixth Assessment Report publication of August 2021 confirm that our planet is warming faster than previously thought. We are now on track to reach 1.5 degrees Celsius (1.5°C) of warming above pre-industrial levels by the 2030s. The next decade will see the Earth further heat up by approximately half of all the 1.1°C of global warming experienced throughout the entire period spanning the advent of the industrial era in the nineteenth century until today. This alarming acceleration in the pace of warming we face in the immediate future is unprecedented for human society. As these changes unfold, climate impacts, anomalies, and extremes – heatwaves and droughts, extreme rainfall and floods, storms, wildfires, and much else – will become far more severe and powerful: for some phenomenon, like extreme heat spells, impacts will nearly double.
GCA reports may be republished in accordance with the Creative Commons Attribution-NonCommercial-NoDerivatives 4.0 International Public License, and in accordance with our Terms of Use.