Joint Statement on Accelerating Climate Adaptation in Cities – 1000 Cities Adapt Now global program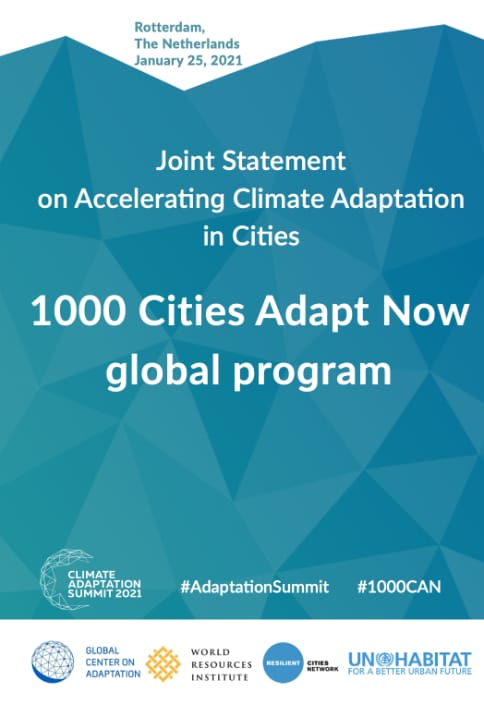 Cities and their growing populations are impacted by climate change on a daily basis. The need to accelerate adaptation in cities and to invest in solutions with multiple benefits is higher than ever before. It is for this reason that the first ever 10-year global program, 1000 Cities Adapt Now (1000 CAN), has been established to accelerate and scale climate adaptation in 1000 cities worldwide.
1000 CAN is initiated by a new and unique Coalition to accelerate adaptation in cities, installed by the Global Commission on Adaptation at the launch of their flagship report, "Adapt Now" (Sept 2019), wherein the Commission called for redoubling the effort to build more resilient and equitable cities. The Coalition will create impact on the ground in cities and is endorsed and supported by cities. In this Joint Statement the Coalition, and a first cohort of Partners and Cities, confirm the urgency to act now and commit to support further development and implementation of 1000 CAN. The Coalition and others also call on city leaders, heads of states, NGO's and the private sector participating in the Climate Adaptation Summit (CAS 2021) to support and facilitate this global program laying the foundation for a decade of action toward a climate-resilient future of 1000 cities in 2030.
GCA reports may be republished in accordance with the Creative Commons Attribution-NonCommercial-
NoDerivatives 4.0 International Public License, and in accordance with our Terms of Use.