An uncovered, garbage-filled gutter at an informal settlement in Accra, Ghana, where solid waste management must be urgently addressed to improve flood preparedness and recovery. © Photo courtesy of Sarah Okorno
From the Field: Flood-prone communities in Accra, Ghana, require urgent, locally-led adaptation assistance
The Global Center on Adaptation's Young Leader for the Water and Urban Team, Sarah Okorno, recently visited six informal settlements across Accra to speak to local residents and find out how they cope with recurring flooding.
T he West African coastal city of Accra has experienced urban flooding since the 1930s, with several large-scale disasters recorded since then. Accra is considered one of Africa's fastest growing cities. Uncontrolled urbanization, coupled with climate change and increasing rainfall intensity, has had devastating impacts on residents of the low-lying Ghanaian capital.

In Accra, more than 1,600,000 people live in flood-prone informal settlements: impoverished communities established haphazardly in unused spaces that include waste disposal sites and river floodplains.

Rural people and migrants often settle in these communities to rebuild their lives and find work after being affected by climate disasters or conflict. Here, residents are able to access basic services in the city and escape homelessness as a result of Accra's housing crisis and unaffordable rents.

Since they are generally viewed as illegal, informal settlements usually lack basic infrastructure such as waste disposal and drainage networks, and water and sanitation facilities.

In a major flooding incident in Accra in June 2015, one third of the 152 fatalities occurred within or near informal settlements, also impacting residents' daily lives and livelihoods.

Climate change projections show that within the next 100 years, Ghana's coastal regions, including Accra, could face a 13-45 cm rise in sea level. Increased rainfall and higher temperatures could make Ghana particularly vulnerable to extreme events such as flooding, leading to increased displacement.

Determined to gather information about the impact of flooding from those most affected, Okorno visited the communities of Chorkor, Mpoase, Opetekwei, Glefe, Odawna and Asylum Down.

"I wanted to know how climate hazards like floods have translated into specific problems for locals… to gather knowledge regarding their adaptive capacities to flooding," said Okorno, who visited homes in these informal settlements and talked to key community members as well as randomly selected individuals.

One Voice: "We Need Gutters"

The Young Leader, who conducted her field visit from March 29 to April 3, 2021, observed the inadequacy of gutters and drains in these settlements, where flooding has been so violent that in certain areas, pooled water has reached people's shoulders.

"There are some communities that have no gutters. Some people have actually connected pipes to channel waste water from their homes onto the streets or into the nearby sea," Okorno said. The settlements that can boast any gutters have just a few, and they tend to be small, choked, and broken. Since many gutters are uncovered, the natural action of the wind and people sweep rubbish into them, she explained.

In areas that lack toilets, open defecation occurs, Okorno explained, recalling the foul stench that hung in the air at Chorkor Beach.

With drinking water pipes that pass through choked, dirty gutters that can easily crack, deadly water-borne diseases, such as cholera and typhoid, could become rampant in these settlements, she warned.

Okorno said most people she interviewed agreed that their communities' poor drainage systems and heavily choked gutters cause the persistent flooding, and that functional gutters would resolve the issue.

"All of them had one voice: we need gutters," she said.

While repairing, expanding and building gutters would certainly help, she believes that this alone won't solve the multi-faceted issue of flooding in these settlements.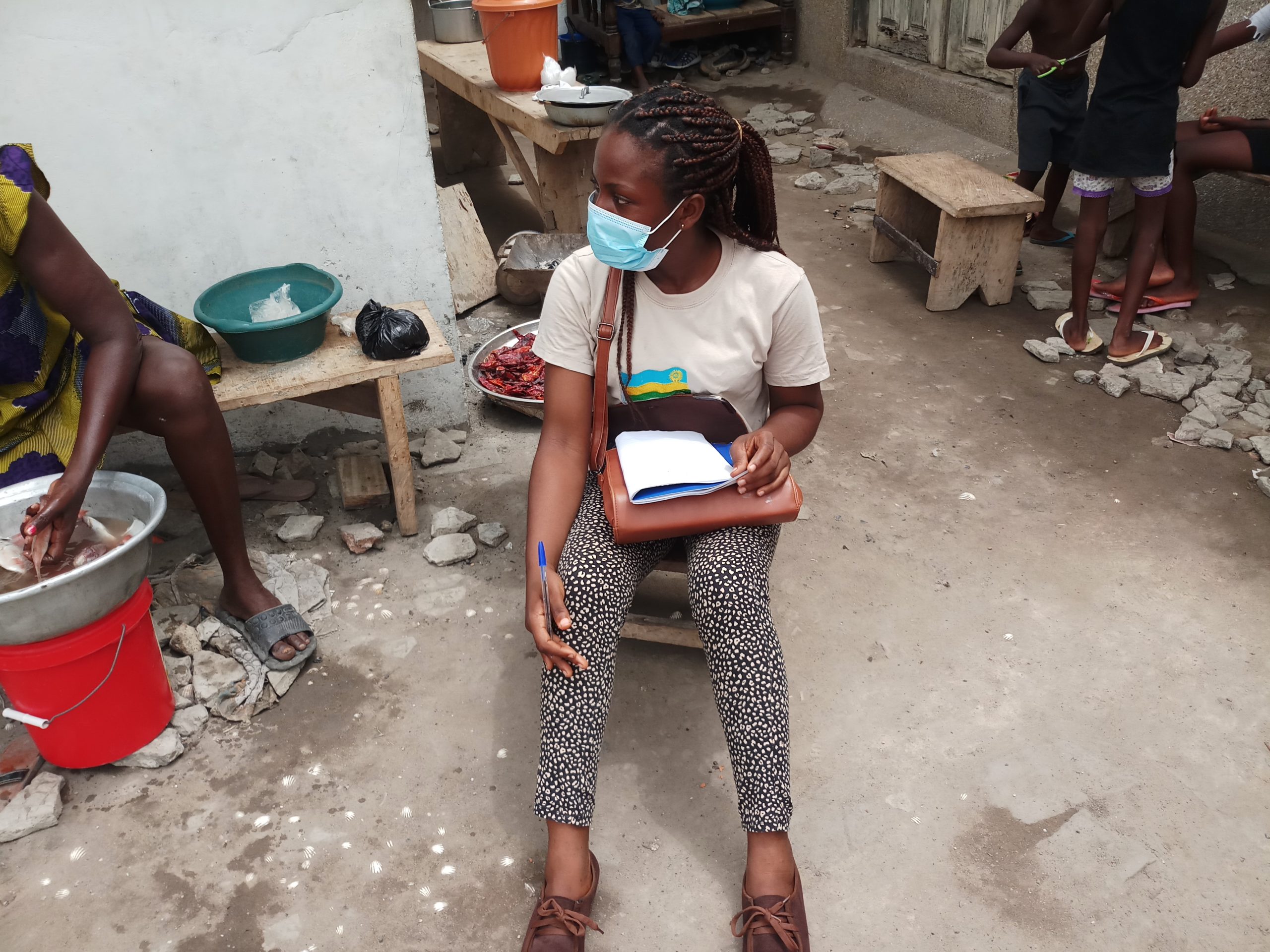 GCA Young Leader Sarah Okorno, 28, on a recent field visit to several flood-prone informal settlements in Accra, Ghana. © Photo courtesy of Sarah Okorno
Solid Waste Management and Flood Mitigation – Key Issues that go Hand in Hand

In terms of disaster management, there is barely any noticeable flood preparedness in the informal settlements.

To prepare residents use sandbags to divert floodwater, elevate household items, seek shelter on higher ground, and clean their gutters to give excess rainwater more space to drain.

"But the garbage keeps coming," Okorno noted. "We have to deal with the problem as a city, with one heart and one mind."

Residents, however, appear to be more reactive than proactive. They lack the funds and resources to adequately prepare for floods or relocate to safer, less flood-prone parts of Accra, and they have simply accepted the floods as part of their lives, Okorno said.

"They live from hand to mouth…they wait for the floods to happen, then clean up the mess," she stated.

For instance, during and after floods they pump water out of their homes into the streets and those who can, move in with family members living in different areas.

But these solutions are clearly insufficient. For residents to better cope with flooding in informal settlements, Okorno believes that solid waste management must receive the attention it deserves.

"As much as we are tackling flooding we should try to improve on the issue of solid waste management, the two go hand in hand," she said, explaining that even if gutters were built and repaired in all informal settlements, if they are choked with rubbish, they will keep flooding.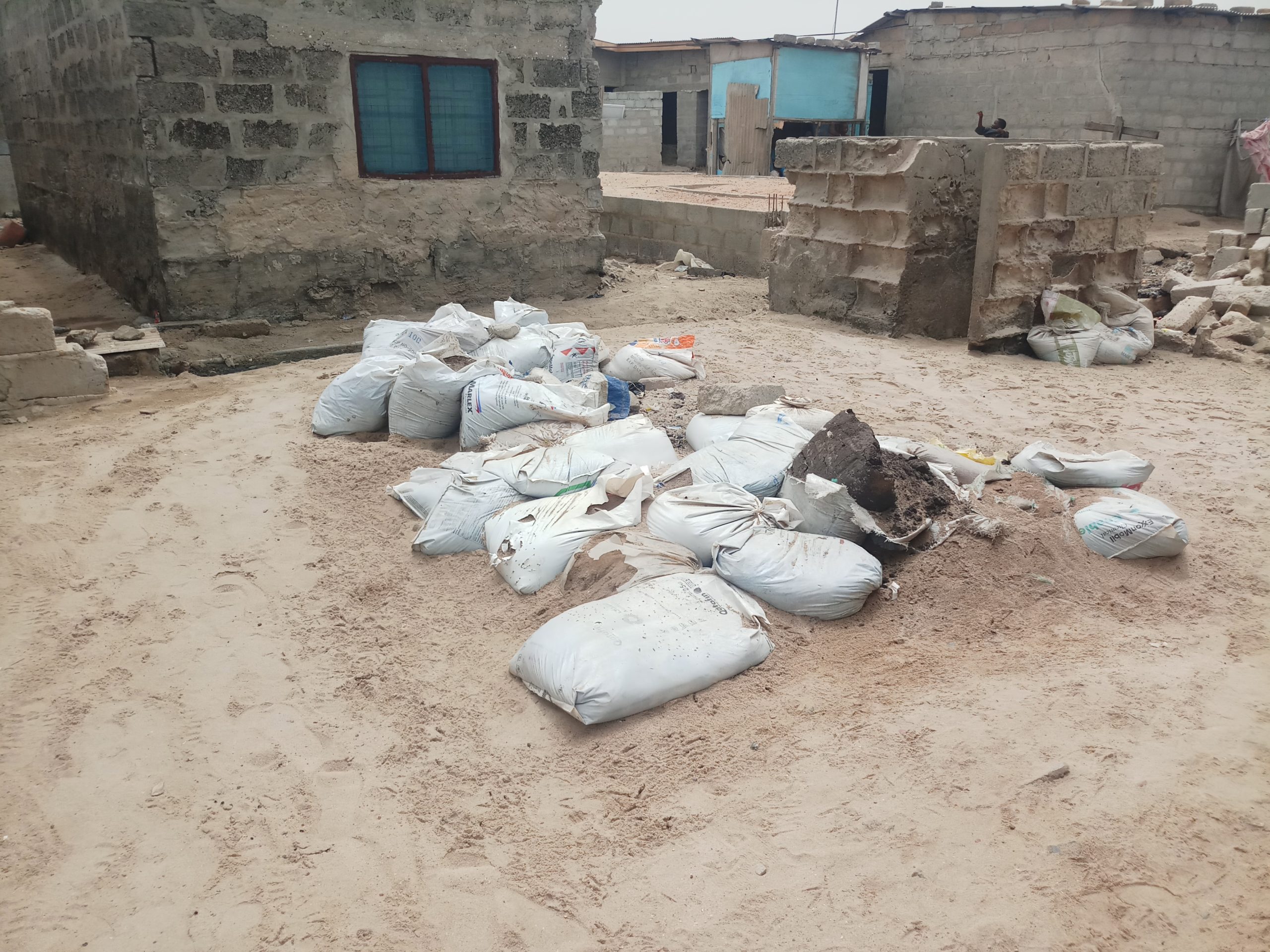 To prepare for floods, local residents use sandbags to barricade their homes and divert the rainwater. © Photo courtesy of Sarah Okorno
How to Enhance Urban Climate Adaptation and Resilience to Flooding in Accra

Okorno merged the information she collected during her field visit with her own observations to develop a set of recommendations to improve adaptation and resilience to flooding in Accra.

She highlighted that informal settlements in waterways should be urgently relocated with compensation and that communities need to be educated on how to prepare for and respond to floods, with efficient local flood warning systems in operation.

Okorno emphasized that the voices of local residents must be present in flood solution design.

Proper solid waste disposal must be enhanced and people should be sensitized on the impacts of indiscriminate disposal, she said, urging for laws and sanctions to enforce proper disposal.

Okorno encourages rainwater harvesting in Accra, where buildings should be constructed above flood level and more green spaces are needed to enable water to infiltrate the ground more easily and reduce flooding.

The GCA's Work in Accra: Brokering Solutions to Advance Climate Adaptation

Okorno, who became a GCA Young Leader in October 2020, is part of the GCA Water and Urban Team. The team works together with the Accra Metropolitan Assembly (AMA), C40, a global network of cities committed to addressing climate change and the Netherlands-based water research institute Deltares to help the city of Accra assess the current and future impacts of climate change and to build its water climate resilience. The GCA combines high level climate risks assessments with on the ground field work such as Okorno's to identify no-regret adaptation measures that can be scaled up by AMA.

"We are excited about the cooperation [with the GCA]. We think it's helping the city give meaning to its Climate Action Plan, and that was always our concern, not to develop a plan that would just sit on the books because we've seen that too many times," said Desmond Appiah, C40 City Advisor for Accra and Advisor to the Mayor of Accra on Resilience and Sustainability.

The city of Accra launched the Climate Action Plan in October 2020, and the GCA is supporting its implementation in the area of Adaptation so that Accra may achieve its goal of becoming carbon neutral by 2050, Appiah explained.

In July 2020, the GCA also launched an initiative to enhance the resilience of Ghana's infrastructure against the threats of climate change. The project includes an analytic study to help identify Ghana's infrastructure adaptation needs and provide a roadmap on how those needs can be met.

Along with the University of Ghana, the GCA is supporting locally-led action and developing a training package to co-create inclusive and resilient urban planning processes in the country. Field work such as Okorno's will help the GCA ensure that adaptation benefits those who are most affected by climate change.

With a much wider scope, the Africa Adaptation Acceleration Program (AAAP), an initiative led jointly by the African Development Bank (AfDB) and the GCA, will scale up transformative actions to accelerate adaptation on the African continent. For this purpose, the AfDB and GCA will leverage 12.5 billion USD.

The AAAP aims to implement, broker and enable large-scale solutions to mainstream adaptation into sustainable development efforts.

Also, the African Adaptation Initiative and the GCA recently signed a Memorandum of Understanding to support African leaders in accelerating climate adaptation across the continent.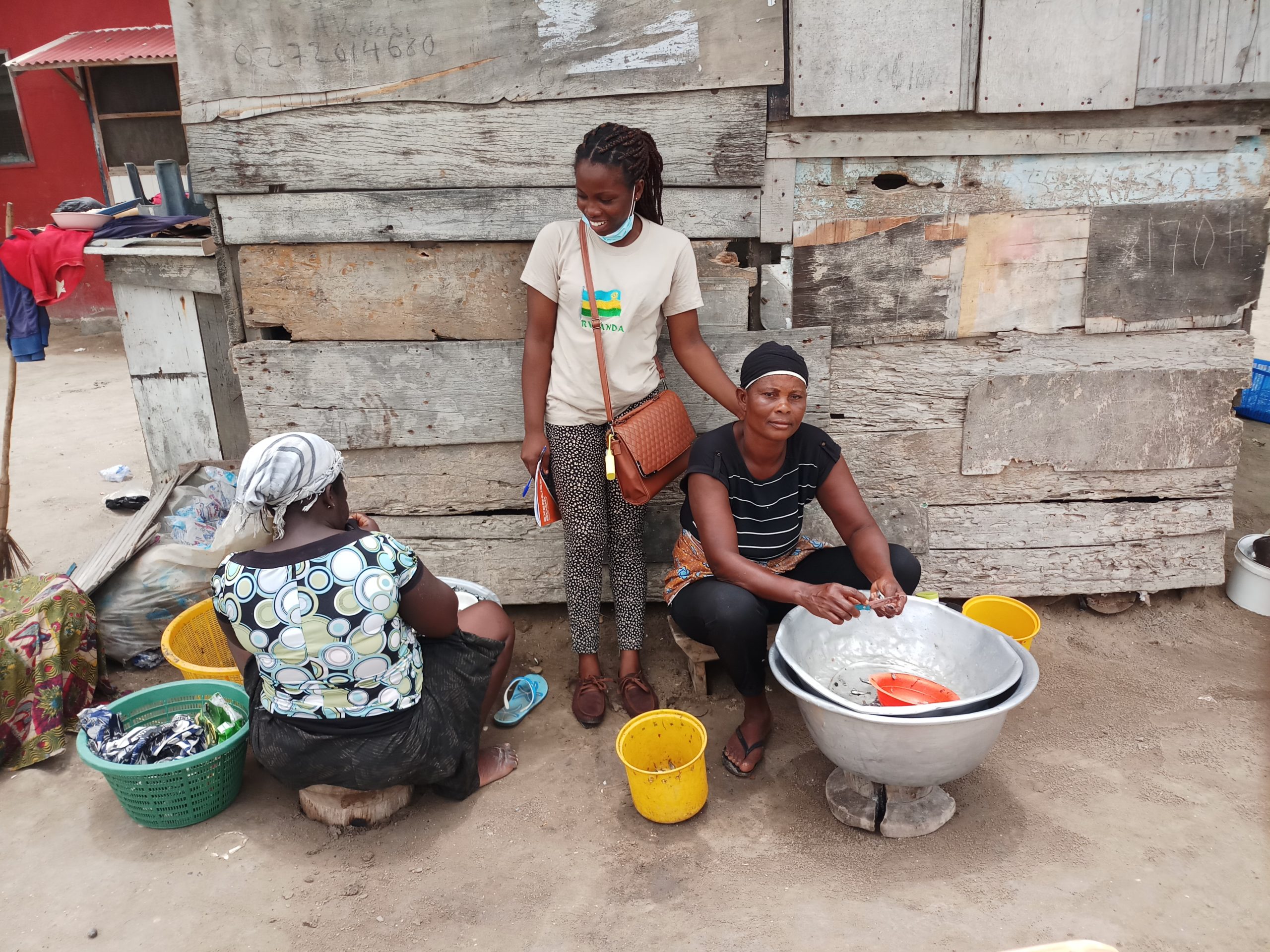 Sarah Okorno, MSc in Water Policy, spoke to local residents to collect information on how they cope with recurring flooding. © Photo courtesy of Sarah Okorno
Related blog posts: