GCA and the World Bank Group Launch the PPPs for Climate-Resilient Infrastructure Knowledge Module
GCA and the World Bank Group have convened a High-Level Steering Group with representation from Multilateral Development Banks and other partner organizations to collaborate on building upstream capacity to integrate climate resilience into infrastructure PPPs. The 'PPPs for Climate-Resilient Infrastructure Knowledge Module' is a critical step towards mobilizing private capital and investments to 'build back better'. Applications are now open for the new initiative to unlock the potential for PPPs to help close the climate resilience funding gap
Rotterdam (Feb. 4, 2021) – The Global Center on Adaptation (GCA) and the World Bank Group launched the PPPs for Climate Resilient Infrastructure Knowledge Module to drive private sector participation in the US$1 trillion infrastructure market. This Knowledge Module will provide PPP practitioners from financial institutions and the public sector with the tools and knowledge required to structure investment programs that incorporate climate resilience into infrastructure PPPs.

The ambitious program was announced at the Climate Adaptation Summit 2021 by Cora van Nieuwenhuizen, Minister of Infrastructure and Water Management of the Netherlands. Following the CAS 2021, a High-Level Steering Group, co-chaired by the Imad Fakhoury – the World Bank Group´s Director of Infrastructure Finance, PPPs and Guarantees, and Patrick Verkooijen – GCA's CEO, brought together infrastructure and PPP teams from Multilateral Development Banks and other partner organizations to discuss how GCA and its partners can collaborate to build upstream capacity to integrate climate-resilience into PPPs.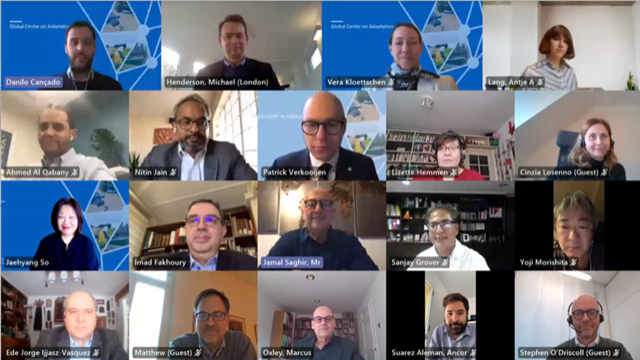 Prof. Dr. Patrick Verkooijen, CEO of the GCA, stated that: "We need to unlock huge investment in resilient infrastructure but need to integrate climate resilience upstream into infrastructure planning. For that, it is essential to build capacity of professionals working throughout the infrastructure lifecycle. We see Public-Private Partnerships as a key entry-point to ensure new and existing infrastructure is climate resilient."

Integrating infrastructure into COVID-19 fiscal stimulus packages – estimated to exceed $11.7 trillion – must be a key priority to 'build back better' during and after the pandemic and is essential to achieving the Sustainable Development Goals. These investments have the potential to achieve a double dividend – avoiding recession, while also supporting longer-term growth through infrastructure. PPPs will play a key role in mobilizing private capital and investments, providing jobs and underpinning economic growth.

GCA is working with AECOM, the world's premier infrastructure firm, to design and deliver the PPPs for Climate-Resilient Infrastructure Knowledge Module. Through this program, GCA and all stakeholders aim to increase collaboration across the public and private sectors to leverage the financial and social benefits of resilient infrastructure. There is a strong business case for doing so, with the World Bank estimating that every $1 invested in resilience can yield $4 of net benefits. In total, building more resilient infrastructure in low- and middle-income countries could yield $4.2 trillion of net benefits. Further information about the program and applications can be found
here.