GCA and United Cities and Local Governments of Africa host event on scaling up locally led adaptation across informal settlements in Africa
A bidjan, Cote d'Ivoire, 6th March 2023 – The United Cities and Local Governments of Africa (UCLGA), a pan-African organization representing local governments and 44 national associations in more than 2000 cities and the Global Center on Adaptation (GCA) today hosted an event  on how to scale up locally led adaptation (LLA) in informal settlements in a dozen African cities. The event was undertaken as part of the City Adaptation Accelerator of the Africa Adaptation Acceleration Program (AAAP) and through the GCA work program at the Global Hub on Locally Led Adaptation in Dhaka.

The meeting was attended by four ministers and their representatives; ten mayors from other countries in Africa; 38 mayors and 10 presidents of regions from Côte d'Ivoire; and representatives from key regional and global institutions such as the African Development Bank (AfDB), UN Environment Programme (UNEP) and the African Ministerial Conference on the Environment (AMCEM). 

GCA has provided UCLGA with a grant of $278,000 until May 2024 to build the institutional capacity of local governments and low-income groups residing in informal settlements in 12 African cities. The project will involve the creation of a scientific evidence base to identify and prioritize adaptation investments and action through Rapid Climate Risk Assessments (RCRAs) and risk profiling conducted by vulnerable citizens to identify and prioritize climate impacts and the day-to-day issues they face. At the same time, options for funding the implementation of the plans will be identified, including through AAAP. Peer-to-peer exchange, learning and networking between cities will also be supported.  
 
According to the Climate Change Vulnerability Index, today, as many as 79 African cities rank among the 100 fastest-growing cities in the world, but also fall within the "extreme risk" category of climate hazards. The mayors present at the event stressed that they are at the forefront of the impacts of climate change and shared the challenges they face in planning and implementing adaptation solutions, highlighting in particular their limited capacity and difficulty in accessing finance. 
 
In a sentiment echoed by other Mayors, Yawa Kouigan, President of Faîtière des Communes du Togo, said financial institutions and local governments do not speak the same language, and this gap in understanding needs to be closed.   Some, including  Jean-Luc Assi, Minister of Environment and Sustainable Development, Côte d'Ivoire, described existing efforts to support local adaptation planning in cities.

Prof. Dr. Patrick Verkooijen, CEO of the Global Center on Adaptation said "Climate resilience has to be built on the strongest foundations – and that means making sure that every man, woman and child has an equal opportunity to thrive and contribute to their community. Failure to do so risks creating much greater problems down the line. This is why GCA has developed tools that will support you in this endeavor. These include the City Adaptation Accelerator – which is already active in 13 cities across the continent – and the Locally-Led Adaptation Toolkit, which grew out of lessons learned on the ground in Mukuru, an informal settlement in Nairobi."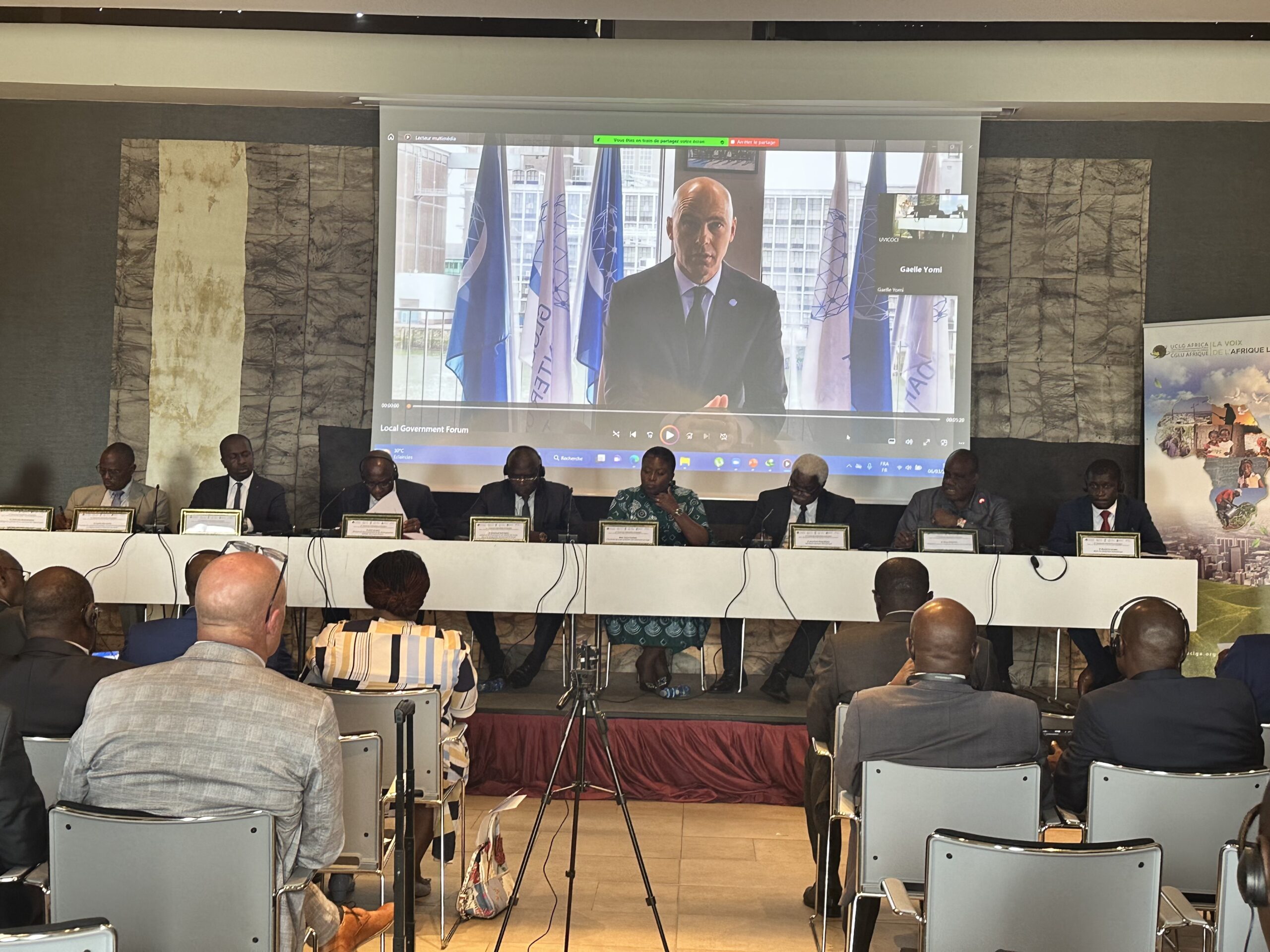 Presenting the locally led planning approach taken in Mukuru, Jane Weru, Executive Director of Akiba Mashinani Trust, highlighted the importance of addressing the unique development challenges of the most marginalized residents of the city through people-led planning. "A city is only as healthy as its poorest neighborhoods," she said. "If the poor suffer a higher burden of disease due to climate change, the disease will soon come calling to the offices of ministers and the most affluent, through those who clean their homes and cities." 
 
UCLGA Secretary-General Mr. Jean Pierre Elong Mbassi said: "We are do-ers. We came from Sharm el-Sheikh reminded that AMCEN relies on us to start implementing their decisions with impact on local governments. We joined with GCA to translate this commitment to action, and the meeting in Abidjan kickstarts our activities." 
 
Mohamed Atani, Head of the UNEP sub-regional office for West Africa, said UCLGA is a "golden platform" to turn the decisions of the AMCEN into practical actions through partnerships and the engagement of key players such as AfDB, GCA, and the private sector. 
 
GCA Global Lead, Locally Led Adaptation, Anju Sharma, highlighted the importance of harnessing the existing capacity of local communities in identifying innovative solutions, through genuine partnerships between local governments and communities.   
 
Joep Verhagen, GCA Global Lead, Water and Urban, highlighted the importance of understanding climate risks at the local level as a precondition for planning and implementation. 

The AAAP, initiated by the African Development Bank and GCA, aims to mobilize US$25 billion by 2025 for climate adaptation, focusing on food security, resilient infrastructure, adaptation jobs and climate finance. In its first 18 months of operations, the AAAP's Upstream Financing Facility has influenced more than $3.5 billion in upstream investments with Multilateral Development Banks in 19 countries in Africa.

The Global Hub on LLA is hosted by GCA's regional office in Dhaka, Bangladesh, and aims to advance the knowledge and solutions agenda for LLA through knowledge acceleration, capacity building, agenda setting and advocacy efforts, and support to increase quantity and quality of climate finance available at the local level.

Notes to Editors

About the United Cities and Local Governments of Africa
Founded in 2005 in Tshwane, South Africa, the United Cities and Local Governments of Africa (UCLGA) is an international pan-African organization that aims to spearhead the decentralization of local governance in Africa. Founded through a constitution adopted by mayors of African cities, its primary goal is to actualize the establishment of local governments with distinct legal and political personalities and financial autonomy. UCLG Africa was formed through the unification of three continental groups serving the interests of local governments and representing almost 350 million African citizens. UCLG Africa acts to strengthen the capacity of local governments to provide better services to their population, support and train Local Government Associations, and represent local authorities at the pan-African and international level.

About the Global Center on Adaptation
The Global Center on Adaptation (GCA) is an international organization that works as a solutions broker to accelerate action and support for adaptation solutions, from the international to the local, in partnership with the public and private sectors. Founded in 2018, GCA operates from its headquarters in the largest floating office in the world, located in Rotterdam, the Netherlands. GCA has a worldwide network of regional offices in Abidjan, Cote d'Ivoire; Dhaka, Bangladesh and Beijing, China.
Related posts: