Africa Adaptation Acceleration
Program

Africa's contribution to global greenhouse gas emissions is minimal. Yet, geographical and economic factors combined with the region's dependence on climate-sensitive sectors make African countries highly vulnerable to the adverse impacts of climate change. This vulnerability compromises the development of the continent and threatens the lives and livelihoods of millions of Africans.
The African Development Bank and the Global Center on Adaptation joined forces to use their complementary expertise, resources and networks to develop and implement the Africa Adaptation Acceleration Program (AAAP). The AAAP galvanizes climate-resilient actions through a triple-win approach addressing the impacts of Covid-19, climate change, and the economy. The AAAP has four transformational and interlinked pillars:
Since its launch in 2021, the AAAP has already mainstreamed adaptation solutions into over $5.4 billion of investments in climate adaptation in Africa.
Contact Information
For more information on this program, or to get involved, please contact:
Increase climate finance for Africa
by mobilizing $25 billion to scale up innovative and transformative actions on climate change adaptation across Africa.
Goal
Influence at least $10 billion in investments by 2025 to build climate-smart agriculture and resilient food systems to support food security for at least 38 million farmers and herders in 26 African countries 
Description
The Food Security pillar's core business line, Climate Smart Digital Adaptation Technologies, mainstreams digital climate advisory services and adaptation solutions into the agriculture and food security investments made by International Finance Institutions. Projects under this pillar include regional and national projects on livestock, national adaptation, and food security resilience across Africa.
The $226 million Program to Build Resilience for Food and Nutritional Security in the Horn of Africa aims to expand access to climate services to more than 1.3 million farmers and pastoralists, enable access to digital advisory services to more than 750,000 farmers, and increase agricultural productivity by 30 percent. The $600 million Ethiopia Food Security Resilience Project is designed to bring digital climate-enabled solutions to support 2.4 million farmers, leading to a 15 percent reduction in food-insecure people in program-targeted areas, and a 20 percent increase in yields of targeted crops in targeted households.
Support under this business line includes a focus on women, who represent a large share of the labor force in African agriculture yet make up a smaller fraction of digital agriculture solutions users because of lower education levels and digital literacy. Capacity-building support delivered through this business line, therefore, aims to increase the digital literacy of women and youth.
Latest news
Goal
Mainstream innovative climate resilience solutions, including Nature-Based Solutions, into $12 billion worth of investments in infrastructure for water, transport, energy, and urban systems by 2025 to ensure infrastructure assets and services for 100 million people are resilient to climate change
Description
The Infrastructure and Nature-Based Solutions pillar delivers support through programs on water, urban resilience, and infrastructure assets and services, which aim to mainstream adaptation and resilience into investments at the national, city, asset, and catchment levels. Locally Led Adaptation approaches ensure that the adaptation needs of vulnerable communities, including those living in informal settlements, are addressed through International Finance Institution investment projects.
Six business lines aim to address adaptation gaps at the national, city, asset, and capacity levels:
For example, climate risk assessments and vulnerability stress tests were conducted to support the $115 million Port of Banjul 4th Expansion Project, which led to the design of 20 adaptation options aimed at mitigating economic damage to the port estimated at $27 million. For the $399.9 million Kampala-Malaba Railway Refurbishment Project, potential Nature-Based Solutions are being identified to reduce flood risk to this essential railway line. The National Infrastructure Risk and Resilience Program in Ghana, a roadmap proposing 35 adaptation options for funders and investors to invest in Ghana's future, was also developed through this pillar.
Key report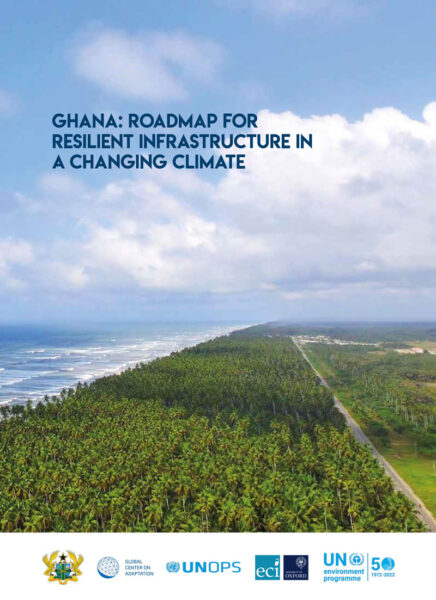 Latest news
Goal
Support one million youth with entrepreneurship skills and to create five million adaptation jobs through investments from international financial institutions worth over $2 billion by 2025 
Description
The Youth Entrepreneurship and Adaptation Jobs pillar aims to unlock the untapped potential of young people in Africa to drive climate resilience and green enterprises by creating adaptation jobs through its two business lines:
The pillar is strongly focused on skills development and knowledge on adaptation, promoting equality and equal opportunities, building the entrepreneurial capacity of African youth, and facilitating access to funding and mentorship to youth-led businesses, half of which will be women-led, in the adaptation space.
Entrepreneurs across the African continent have been empowered to scale their adaptation businesses as part of the African Youth Adaptation Solutions Challenge (YouthADAPT Challenge), with grant awards of up to $100,000 per enterprise and a 12-month accelerator with business coaching and mentorship. The awarded adaptation solutions cut across the agriculture and waste management sectors as well as enterprises that are addressing on-ground climate challenges faced by vulnerable communities in their regions on the African continent.
The pillar also launched support for six Multilateral Development Bank job creation and agriculture projects that are expected to finance investments worth $690 million. For the $620 million Investment in Digital and Creative Enterprises Project in Nigeria, the pillar is identifying opportunities to create climate adaptation-aligned jobs within the project, aiming at creating 77,270 direct jobs and 772,700 indirect jobs. The pillar is also providing feasibility studies and assessing job opportunities in adaptation, as well as the skills required for such jobs, for the $538 million Special Agro-Industrial Processing Zones Program, which aims to create 500,000 jobs and train 25,000 youth-led enterprises in Nigeria.
Latest news
Goal
Unlock access to $1 billion in adaptation finance by 2025 by enabling direct access to climate finance for countries through GCA's Technical Assistance Program and integrating adaptation solutions into the design of innovative public and private financial instruments
Description
The Adaptation Finance pillar is developing and implementing financial instruments and mechanisms to support the implementation of adaptation actions by raising finance from various public and private financiers. This pillar answers a pressing need to address a steep deficit in funding for adaptation today in Africa. There is a lack of reliable and sustainable sources of finance for the adaptation programs and projects currently under development. Compared to the various types of financing instruments and grants that are available for climate change mitigation, there are few places where private and public sector project developers can get the necessary resources for adaptation. Further, most of the funds currently available for adaptation come from the public sector. To support the development of resilient green growth in Africa, there needs to be a step change by developing a deeper understanding of the needs and capabilities of the private sector.
The Adaptation Finance pillar builds the capacity of African countries to drive adaptation at a much greater scale by planning differently and accessing the key sources of adaptation finance through its three business lines: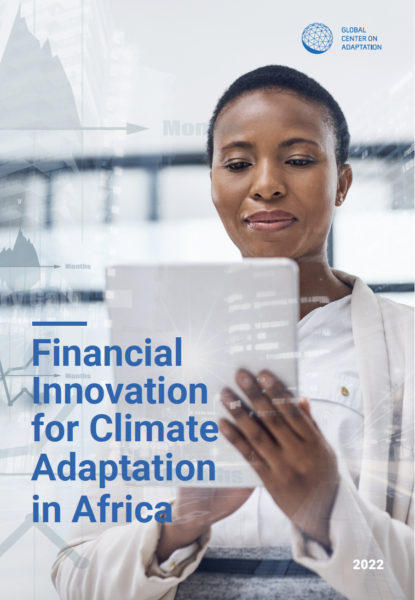 Financial Innovation for Climate Adaptation in Africa 2022
There is a pressing need to accelerate finance from all sources for climate adaptation in Africa over the coming decade. This report presents recommendations to increase the volume and efficacy of adaptation finance flows for Africa.
Upstream Financing Facility
The AAAP Upstream Financing Facility supports African countries and financing institutions by bringing the best knowledge, science, and practice to the development of innovative adaptation projects. This Upstream Facility finances the work of GCA and its implementation partners, many of them Africa institutions, to design and mainstream adaptation and resilience components into the projects of multilateral development banks, other development financial institutions, and bilaterals. The Upstream Facility supports research, monitoring for rapid extraction and replication of lessons, knowledge sharing, capacity building, and policy support. The Facility helps the design of transformational adaptation shifts at the country level. Finally, it also supports the mobilization of additional financing for climate adaptation in Africa.

Since its launch in January 2021, the Facility has influenced $5.4 billion in investments financed by the African Development Bank and other partners, including the World Bank, in the areas of Food Security, Infrastructure and Nature-Based Solutions, Youth Entrepreneurship and Adaptation Jobs, and Adaptation Finance. Through the AAAP pillars, the Upstream Financing Facility maintains an influencing ratio of 1:100, where one dollar invested in the Facility leads to $100 influenced to bring the best adaptation solutions to Africa. The Upstream Facility is mobilizing $250 million over five years to support the $25 billion of investments of the AAAP.
This results report highlights progress made by GCA on the Africa Adaptation Acceleration Program during the period January–December 2022, and emerging results. The results report for the period January–June 2022 is available here.
In June 2022, GCA launched an external mid-term review of the AAAP activities during 2021 and early 2022. This formative- and outcomes-focused evaluation assessed progress made toward objectives with an eye to identifying areas and actions that can lead to greater operational impacts.
For more information on this program, or to get involved, please contact: