GCA CEO Welcomes President Kenyatta as Global Champion for the Africa Adaptation Acceleration Program
N airobi, Kenya, 17 May 2022 – Global Center on Adaptation CEO Dr Patrick Verkooijen welcomed President Uhuru Kenyatta as the Global Champion for the Africa Adaptation Acceleration Program (AAAP) at the high-level bilateral meeting hosted by the President at State House in Nairobi on Monday, 16 May.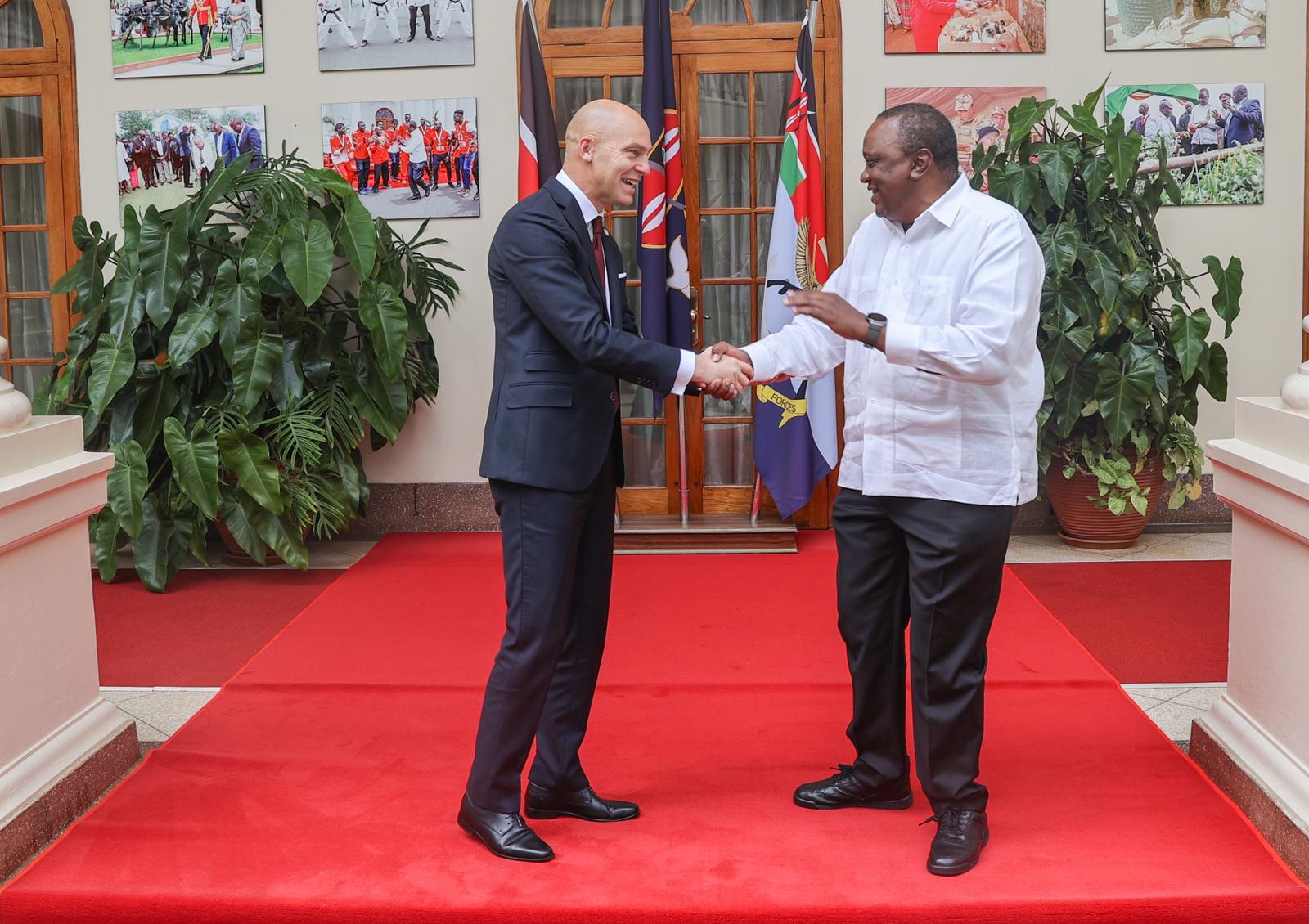 His Excellency Uhuru Kenyatta, President, Republic of Kenya and Prof. Dr Patrick Verkooijen, CEO, Global Center on Adaptation (GCA) at the State House, Nairobi after the meeting on Monday, May 16, 2022.
In this role, President Kenyatta will carry forward his bold leadership on climate adaptation in Kenya to mobilize the global community to honor their commitment of doubling global climate finance.

"Africa – indeed the world – is confronting multiple global shocks that are reverberating through our economies. The catastrophic drought in Kenya, exacerbated by climate change, is threatening lives and livelihoods, and needs an immediate response. Many African nations, including Kenya, have already suffered losses of three to five percent of GDP because of the present climate threat," President Kenyatta said.  

"We must not lose sight of the critical actions and global finance needed to address the climate and food crisis today, and to build a more resilient continent. AAAP is Africa's plan that puts Africa's youth and jobs at the center of the adaptation agenda for a green, prosperous Africa."

President Kenyatta has been one of the key driving forces behind the AAAP, launched by the President of the African Development Bank Group (AfDB) Dr. Akinwumi Adesina and CEO of the Global Center on Adaptation (GCA) Dr. Patrick Verkooijen to mobilize $25bn for climate adaptation in Africa by COP27. 

The African Union has endorsed AAAP's two financing mechanisms, including the AAAP Upstream Financing Facility hosted by GCA, which has already influenced $3bn in investment for adaptation in Africa since its inception in 2021. The AfDB administers the second financing mechanism through the climate set aside under the ADF-16 replenishment, which builds on the AfDB's firm commitment to finance $12.5 billion – half of the AAAP investment target. 

In a statement to the press, Dr. Patrick Verkooijen stated that, "Africa is tired of waiting — I am deeply honored to continue working alongside President Kenyatta for Africa to build forward better by financing a greener, more resilient, and prosperous continent that puts people in the driving seat."

"Adaptation is not only possible; it makes economic sense. Investing in climate adaptation is good for our health. Good for our planet. And good for our economies."

Verkooijen cautioned that "The cost of action is not zero. Integrating resilience into agriculture and food systems in Sub-Saharan Africa will cost $15bn annually. But the cost of inaction is more than ten times more, estimated to be $200bn annually."

President Kenyatta will address other global leaders during GCA's Annual Meeting on June 16, which marks a key milestone ahead of the Africa Adaptation Finance Forum convened by GCA, AfDB and the African Union in September 2022. 
Notes to Editors
About the Global Center on Adaptation
The Global Center on Adaptation (GCA) is an international organization which works as a solutions broker to accelerate action and support for adaptation solutions, from the international to the local, in partnership with the public and private sector. Founded in 2018, GCA operates from its headquarters in the largest floating office in the world, located in Rotterdam, the Netherlands. GCA has a worldwide network of regional offices in Abidjan, Cote d'Ivoire; Dhaka, Bangladesh and Beijing, China. 
Related posts: