Ramping up climate finance flows for adaptation is critical to addressing the irreversible impacts of climate change, but this alone will not be enough to protect Africa. Having a clear set of priorities, with institutions that have the capacity to plan properly and take adaptation actions at scale, is equally important. 
Planning is crucial when making strategic choices for policies and programs for climate adaptation, particularly in the face of constrained budgets. Climate change is a complex and multifaceted challenge that affects various sectors and all of society. Developing effective adaptation strategies requires careful consideration of these interconnections and potential trade-offs. Adaptation action likewise involves multiple levels of government and stakeholder engagement. Planning provides a structured approach to ensure that different policies are consistent and complementary, avoiding conflicts or duplication of efforts and ensuring coordination among actors. 
For these reasons, the Global Center on Adaptation completed a thorough review of all the national strategic adaptation documents prepared by governments in the African continent. This study provides a detailed review of the main characteristics of these strategic adaptation plans, their depth and coverage, and the degree to which these documents demonstrate a supportive environment (including policies, institutions, and programs) to implement the most critical adaptation programs at scale for each country.
This report has been prepared as an input to the 2023 Africa Climate Summit. A parallel report reviews the adaptation finance flows to Africa and calculates the gap to meet the needs identified by countries in their strategic adaptation documents. These two reports will serve as input to the preparation of the Country Climate Adaptation Compacts that will build on each country's strategic adaptation documents and specify priority investment programs and projects ready for financing and scaling-up. All these activities are connected to the Africa Adaptation Acceleration Program, which is mobilizing US$25 billion for adaptation investments in the region.
This report reviews the adaptation components of Nationally Determined Contributions, the key documents that emerged from the Paris climate agreement; National Adaptation Plans, a UNFCCC-led instrument to drive and coordinate national adaptation actions; and long-term strategies that help countries articulate a national vision for a climate-resilient society.
GCA reports may be republished in accordance with the Creative Commons Attribution-NonCommercial-
NoDerivatives 4.0 International Public License, and in accordance with our Terms of Use.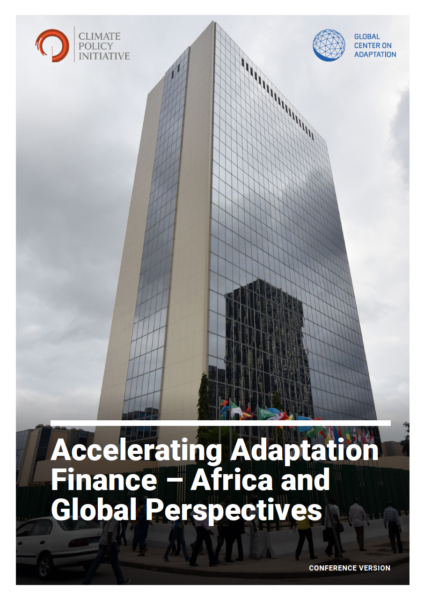 Accelerating Adaptation Finance – Africa and Global Perspectives
In the context of the Africa Climate Summit, this policy brief highlights the need to dramatically increase the amount and efficacy of adaptation financing to Africa. This brief also spotlights the persistent challenges related to adaptation finance flows in Africa, and highlights priority actions for the global finance community to undertake to address them.