Nature-based solutions are at the heart of a major new project helping four cities in Laos
The UN's Green Climate Fund will provide $10m to help rebuild wetland habitats in four cities on the Mekong river.
L aos has announced a $10m programme of nature-based solutions, funded by the UN's Green Climate Fund (GCF), to address flooding in the south-east Asian country.

The country's largest ever ecosystem-orientated project, it represents an important shift from manmade "grey" to "green" infrastructure, bringing Laos up to date with a similar evolution in flood-prevention thinking worldwide.

Four cities – the capital Vientiane, Paksan, Savannakhet and Pakse, all sitting on the Mekong river – have been identified as most vulnerable to climate change. The five-year project will aim to build the resilience of these urban areas by restoring natural habitats there, including 1,500 hectares of wetland.

"This project offers hope for the future by recognizing that nature provides some of our greatest defences against extreme weather," says Syamphone Sengchandala, deputy director-general of the department of climate change, at the ministry of natural resources and environment. "The question is whether we can learn to protect these natural services, and this project is a major step forward."

The ministry will also add $1.5m to the GCF contribution to a project that, though relatively small in monetary value, is expected to benefit 10% of the Laotian population. It is the first urban ecosystem-based adaptation (EbA) project to be funded by the GCF.
Heavy rains
With its three biggest cities lying in the Mekong corridor, Laos remains highly exposed to the effects of climate change. Heavy rains caused by two tropical cyclones unleashed widespread flooding in 2018, killing 64 people, affecting more than 600,000 more across the country and causing damage equivalent to 10% of Laos's annual budget.

Though economically fast-growing, Laos – with a per capita GDP of just over $7,000 – remains limited in its ability to comprehensively respond to natural disasters.

The July 2018 collapse of a dam in Champasak province, near Pakse, illustrated the limitations of traditional "grey" infrastructure. But it is hoped a shift to green measures will prove a less costly route to bolstering the country's capacity to adapt to severe weather events.

"By restoring and protecting vast areas of urban forest and wetlands, we can increase infiltration of water into the ground and regulate the flow of water in streams and rivers," says Jessica Troni, head of the climate change adaptation unit at the United Nations Environment Programme. "This will ultimately lead to fewer, less intense floods."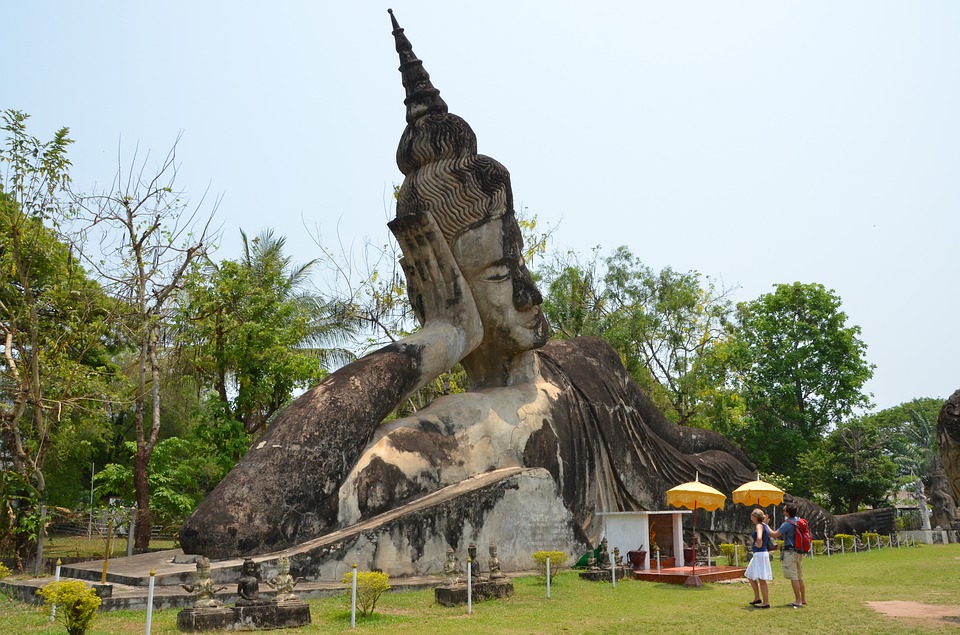 Vientiane is one of the cities involved in the project. Image by Somsanith Chanthaseng/Pixabay
From grey to green
There has been a worldwide shift towards green infrastructure in climate-adaptation schemes over the last decade. China launched its "sponge cities" initiative in 2015, which aims to make 30 cities, including Shanghai and Wuhan, capable of recycling 70% of their rainwater.

Philadelphia, New York, Seattle and Copenhagen, to name a few, have all made major investments in green infrastructure in recent years. Others are belatedly realizing the benefits of the approach for smart water management after major flood events – including in Houston following Hurricane Harvey in 2017 and in south Yorkshire, UK this year.

An Alliances for Green Infrastructure report estimated that $25bn was spent by governments, companies, water utilities and civic groups on water-focused green infrastructure in 2015.

Now the approach is trickling down to developing countries, including Laos. As well as the GCF scheme, the World Bank is financing a $30m risk mitigation project in the country's north-western Oudomxay Province that will incorporate green infrastructure.

Laos's ministry of information, culture and tourism is also commissioning studies that will consider the value of these new concepts for strengthening tourism in the Greater Mekong Region.

The country, mindful of the future climate threats, signed up last year to the World Bank's Southeast Asia Disaster Risk Insurance Facility, which provides crisis finance and technical advice in the wake of extreme-weather events.
The ideas presented in this article aim to inspire adaptation action – they are the views of the author and do not necessarily reflect those of the Global Center on Adaptation.
Related blog posts: