Opinion: Using innovative finance to tackle rising sea levels and build resilience
Maram Ahmed argues that the financial magnitude of the risks posed from rising sea levels requires accelerated climate adaptation measures. Without building adequate resilience, 4.6% of the global population could be flooded annually in 2100
I nternational agreements such as the Paris Agreement, the United Nations Sustainable Development Goals, specifically SDG 14, acknowledge the importance and critical role of the ocean
SDG 14 aims to "conserve oceans and seas" not surprising given oceans makes up over 70% of the earth's surface and are critical for the global climate, biodiversity, and human well-being.
However, climate change poses multiple threats to oceans. Our oceans are changing at the fastest rate in human history becoming warmer, increasingly acidic, and disrupting ecosystem functions.
One of the greatest risks posed by climate change is rising sea levels, putting coastal areas on the front lines; entire coastal cities could be wiped out by 2050 if no action is taken, new research has revealed. The study conducted discovered previous calculations of coastal flooding and rising sea-levels were massively underestimated.
What does this all mean?
Well, in simple terms, the issue of coastal flooding is far worse than anticipated. What started as an environmental problem could quickly spiral into a dire humanitarian one if not contained. And we see this happening already. Many are being forced to abandon their homes and uproot as their lands become inhabitable increasing climate induced migration. Last year alone there were 8.6 million flood-related displacements as more frequent floods are further driving displacement.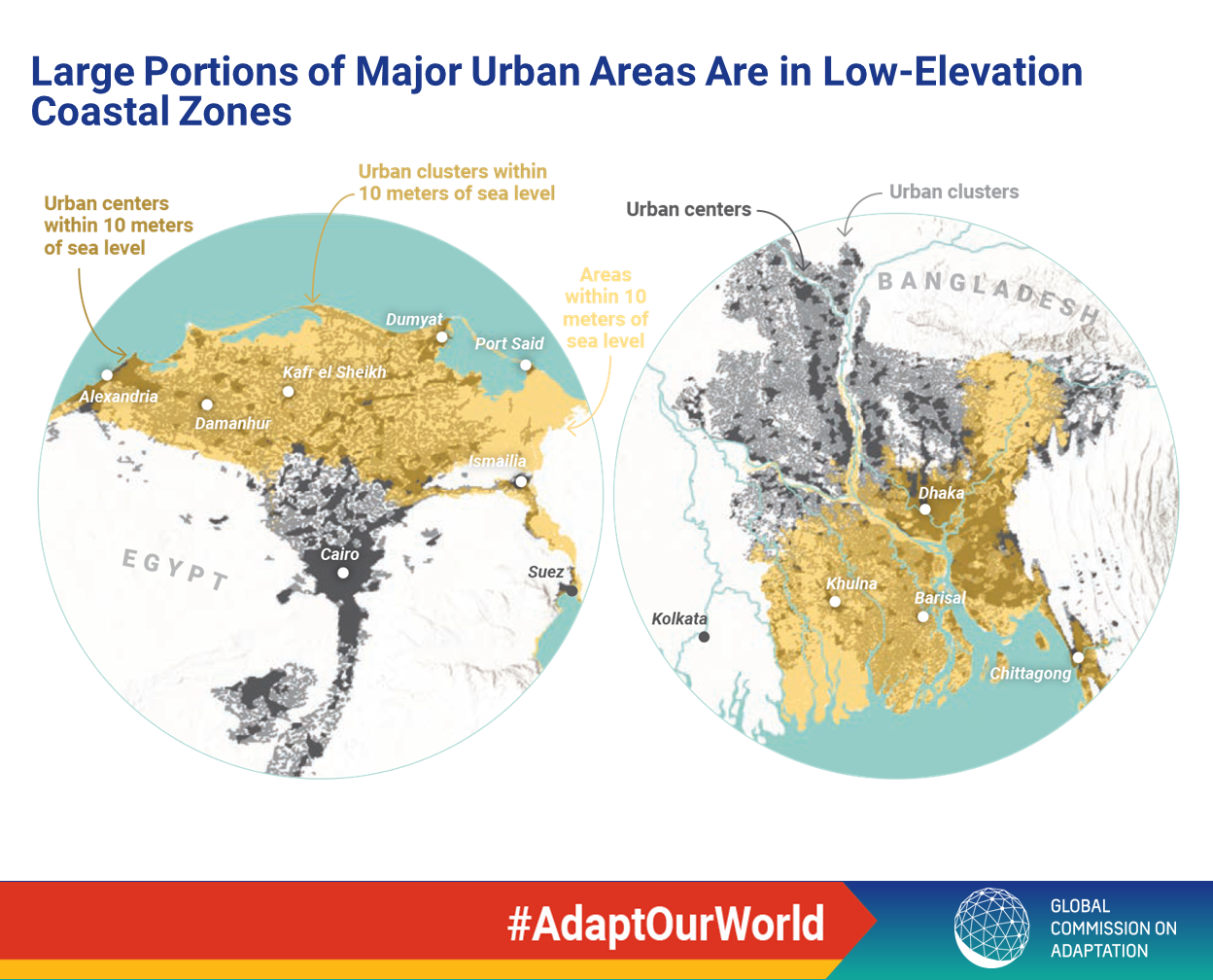 Funding for resilience
In this context, there are several opportunities offered by new financing mechanisms  and number of innovative financing tools have been used this year to tackle this critical issue across different coastlines.
For example, capital market instruments such as green bonds, blue bonds, and climate resilience bonds have mobilised capital to enhance flood resilience and adaptation efforts by leveraging sustainable finance.
Consider innovative instruments, such as Nigerian-based Access Banks' green bond issued earlier this year. Raising $41 million, it was the first certified African corporate green bond whereby 80% of the bonds proceeds were allocated to protection against rising sea levels and coastal flood defences in Eko Atlantic City — a new coastal development on the outskirts of Lagos.
Another example is the inaugural blue bond issued by the Nordic Investment Bank last January to protect and rehabilitate the Baltic Sea raising SEK 2 billion. The bond was issued to support and finance water management and protection projects.
Projects such as the Nya Slussen project in Stockholm will be funded by the bond to expand drainage capacity and accommodate higher floodgates by redeveloping the water locks.
The project is a key flood mitigation measure as it aims to prepare the city of Stockholm, and the Mälar region, to adapt to the impacts of rising sea levels and future extreme weather conditions.
New bonds
Multilateral development banks such as the European Bank for Reconstruction and Development (EBRD) are also utilizing such mechanisms. Last September, the EBRD launched a landmark climate resilience bond raising $700 million. Proceeds raised from the 5-year bond will be used to finance projects such as climate resilient infrastructure for example water, energy, urban infrastructure, etc.
Blue bonds and climate resilience bonds are still nascent compared to the decade old green bond market. However, there is potential for these innovative instruments to provide capital needed to build resilience and tackle the issue of rising sea levels across vulnerable coastlines as the examples above demonstrate.
Building on the momentum of the UN Climate Action Summit this past September and the upcoming COP 25, there is a significant opportunity to explore innovative financial instruments and mechanisms to tackle the issue of rising sea levels.
Market-based solutions are in no way a panacea but they offer potential that cannot be ignored.
Moving ahead, investment in resilience measures to support climate adaptation strategies through capital markets would be a good entry point.
But more effort and experimentation is needed to identify the best way to link these innovative instruments with enhancing flood resilience and climate adaptation agendas.
The ideas presented in this article aim to inspire adaptation action – they are the views of the author and do not necessarily reflect those of the Global Center on Adaptation.
Related blog posts: