The world needs a reset: in conversation with Feike Sijbesma
BUILD BACK BETTER – In the first of this series, Patrick Verkooijen, CEO of the Global Center on Adaptation, interviews Feike Sijbesma.
F ormerly CEO and now honorary Chairman of Royal DSM, Feike was recently appointed coronavirus Special Envoy for the Netherlands. He is also a board member of the World Economic Forum, part of the International Monetary Fund's external advisory group and co-chair of the Global Center on Adaptation as well as member of the Advisory Board of the IMF and Climate Leader/Carbon Price Champion of the World Bank.
In this edited Q&A, Feike talks about the intersection between COVID-19 and climate change, global inequality and his hopes for how the world might change in the years to come.

Highlights:
It's time for a global Marshall Plan 2.0 for the most vulnerable countries
A full 'reset' is required, not simply a 'restart' that gets us back where we were
The crisis highlights global interdependency and importance of multilateralism
The developing world must not be left out of reconstruction efforts
Q On coronavirus, what is the biggest challenge you have addressed so far?
A The crisis has three elements. One: it is a healthcare crisis. Many people are affected by it and are at risk of illness or even dying. Secondly, it also triggered an economic crisis due to the lockdowns. And thirdly, we have a mental, or emotional, crisis because people are losing their jobs and are stuck at home. It is extremely complicated to address. We have also seen how globalization drove prosperity but made us extremely dependent on each other as well.
Q What lessons do you think we can learn from this crisis in terms of multilateralism?
A Several people had warned of the impact infectious diseases can have globally, even up to a pandemic, but we had not really prepared ourselves globally. Even when it was happening in China, and then Asia, and then in Italy, we still didn't believed it would spread globally. So, we even at the late stages, we were in a kind of state of denial and didn't fully prepare. More crises can happen in future. Take climate change. If that hits us hard in future, we can't claim we didn't see it coming. So, there's one thing which we can learn – the need to be more prepared on climate change. Another thing we see is that we have created in our global supply chains increasing inter-dependency. Take generic medicines in the West, which come mainly from India and China. Supplies were sometimes interrupted due to the lockdowns in those countries. Globalization created prosperity for billions, but not for all. Globalization created interdependence from which we benefited, but perhaps not in all supply chains. So in the reset we need to rethink and redesign several aspects of our economy and society. Finally, we saw that developing countries were hit by the crisis before they introduced lockdowns themselves. Why? Because their trade was damaged by lockdowns happening in the developed world. Climate change and the global economy cannot be addressed by countries on their own, nor bilaterally, because we are all dependent on each other. It asks for a united multilateral approach.
Q How do you think we can invest in the current health crisis, while at the same time also addressing the climate emergency? Some people are calling for a 'green recovery'. How do you think the money should be spent?
A Most likely, we will spend trillions of dollars to address the COVID-19 crisis globally. Now, we can spend that money in two different ways. We can spend it to repair what we had and keep as much of it as possible. But we could use this stimulus money also to make reforms as we do the rescuing. We call that a 'reset' rather than simply a 'restart'. If richer nations are going to help developing countries in this crisis, we should ensure of some that money goes toward making those places more resilient to many aspects, including climate change. Countries like Ethiopia cannot grow enough food for themselves, despite 80% of the population being farmers. Others, like Bangladesh, are suffering already from the flooding caused by climate change. In Western economies, we need to make business more sustainable. For example, if we are to bail out the airlines, let us make sure they switch to using biofuels as much as possible as part of the deal. A blunt question: should we rescue everything, at least let's reform at the same moment, to the benefit of all?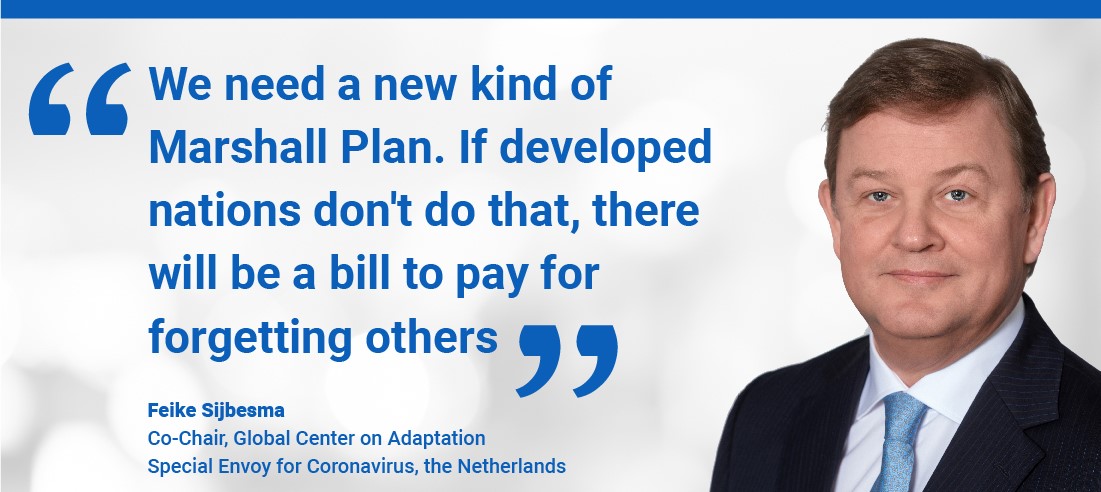 Q The UN recently warned of famine of biblical proportions in Africa. As a champion of food security for Africa, how do you think this relates to COVID-19 and the climate crisis?
A Africa is increasingly confronted by the climate crisis. The pandemic could see Western countries turning inward on their own problems and their own economies. And on top of that Africa will be hurt by the impact of COVID-19 themselves.  If those things all hit at once, Africa could face unprecedented famine. We must prevent it. Some say this is the biggest crisis since the Second World War. Let us remember that time – as Europe lay in disarray after all the fighting – and the United States came to the rescue with the Marshall Plan to rebuild the Continent. We need a new kind of Marshall Plan, not just for the developed world, but for Africa and other developing countries, to help them become more resilient and self-supporting in food production through initiatives like Africa Improved Foods. If developed nations do not do that, there will be a bill to pay for forgetting others.
Q If we were to have this same conversation 10 years from now, where do you expect we'll be?
A If we fast forward 10 years, we surely won't have forgotten about 2020. The impact will be huge. For the first time in many years, we will have recessions. There is even talk of economic depression. But I dearly, dearly hope that we will also talk about this crisis as a turning point: 'Oh, those were all the years where we reformed ourselves. When we really made a decisive step to make our economies more sustainable, more circular, more attuned to climate change.' Because we realized we that we cannot simply accept another food crisis…a climate crisis…an African crisis…a Developing World crisis….in the years after 2020. Finally, I'd like to say a word about the Global Center on Adaptation and the responsibility we all share – because I think we feel the same way, Secretary-General Ban Ki-moon and you Patrick Verkooijen, if you have the ability, and even the power, to contribute to a better world, you just have the obligation to contribute to the better world. And that's what we're doing.
The ideas presented in this article aim to inspire adaptation action – they are the views of the author and do not necessarily reflect those of the Global Center on Adaptation.
Related blog posts: