European Youth Adaptation Forum: Youth coming together for Adaptation
GCA's Youth Advisory Panel hosted the European Youth Adaptation Forum on 11th June 2022. The Forum was the fourth in a series of six regional youth adaptation forums, with a key focus on collecting youth recommendations on the Global Goal on Adaptation. 
We are only four months away from COP27 in Sharm El Sheikh, Egypt, a milestone conference that has earned the sobriquet  the "Adaptation COP". The launch of the two-year Glasgow–Sharm El Sheikh work program at COP26 represents a significant step forward in establishing the Global Goal on Adaptation (GGA) outlined in the Paris Agreement, but there are still crucial gaps and challenges in its operationalization. While mitigation has a clear universal metric – limiting warming to 1.5 degrees – the same cannot be said for adaptation, which is unique across countries, contexts and populations. 

This leads to several crucial questions. For instance, can we define and empirically measure a global goal on adaptation? Who is shaping what the global goal looks like? How can the most affected communities and demographics inform its design? Who is going to implement that goal? 

Four members of GCA's Youth Advisory Panel attended the Bonn Climate Change Conference in June, a conference of agenda-setting meetings to set the stage for the upcoming COP27. In Bonn, GCA's Youth Advisory Panel hosted the European Youth Adaptation Forum, and brought together youth speakers as well as institutional representatives for an intergenerational dialogue.  The event convened many global stakeholders who aim to shape the "Adaptation COP" agenda and ensure that resilience is at the forefront of the international climate agenda. 

The world is home to 1.8 billion young people between the ages of 10 to 24, the largest generation of youth in history. Youth are not just victims of climate change, but are also important actors in the fight against climate change. We are innovators, business owners, and change agents. Young people are stepping up efforts and leveraging knowledge and skills to speed climate action, whether through education, science, or technology. The extraordinary global mobilization of young people demonstrates the potential of the youth to hold policymakers accountable and to drive implementation. 

Our message is very clear: the younger generation will pay a heavy price — with our own futures — for older generations' failure, unless we act now.

This energy, innovation and intergenerational collaboration defined the lively, interactive session which brought panelists and audience alike together for an interactive dialogue that elevated youth priorities and recommendations for the Global Goal on Adaptation and suggested how to pave the way forward for implementation.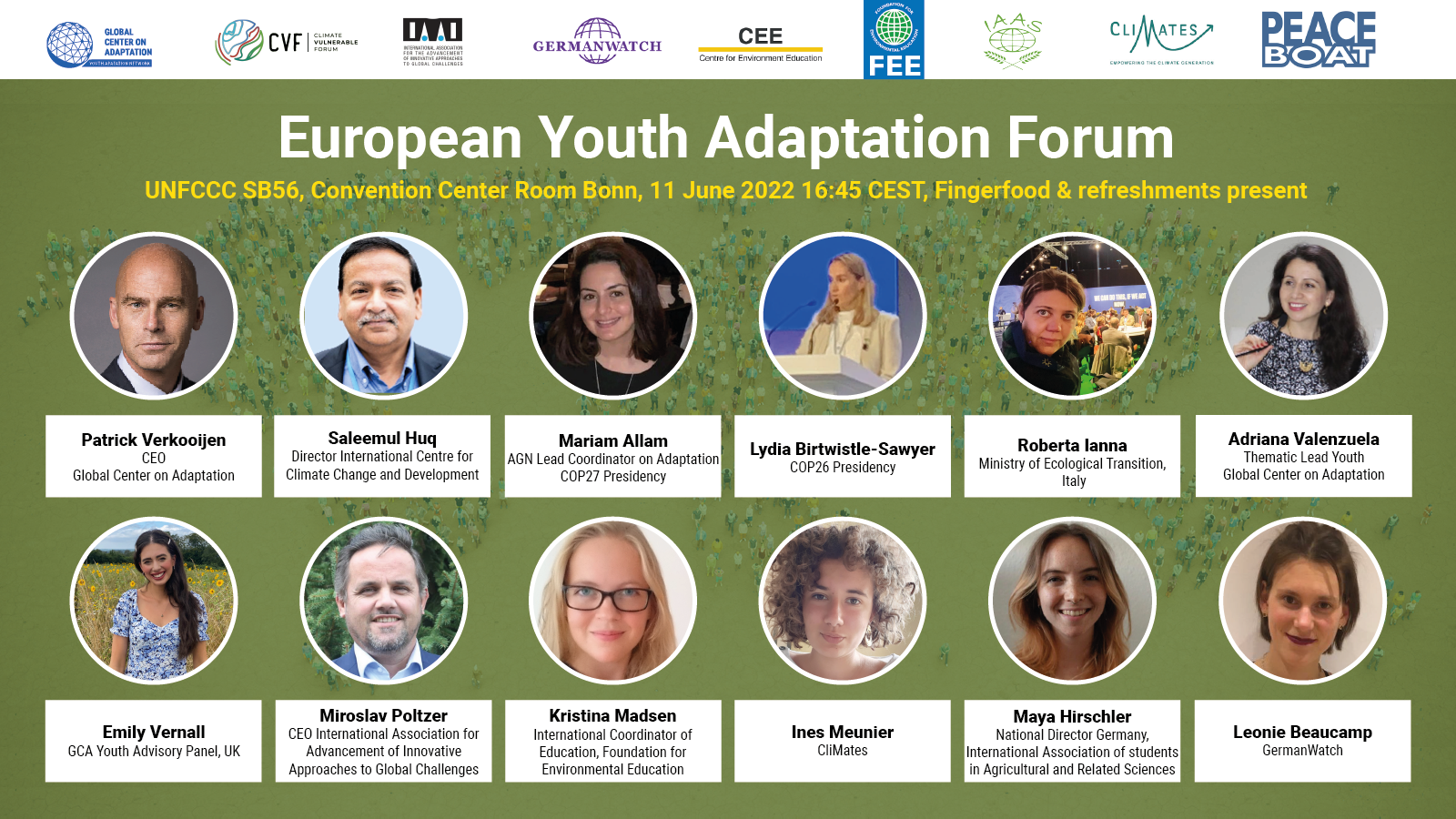 The young leaders who participated were:
Emily Vernall, GCA Youth Advisory Panel, UK
Dennis Jansen, UN Youth Representative on Sustainable Development for the NetherlandsInues Muenier, CliMates
Maya Hirschler, National Directory Germany, International Association of Students in Agriculture and Related Sciences
Stefan Rostock Lead Education for Sustainable Development, GermanWatch 
Kristina Madsen, International Coordinator of Education at Foundation for Environmental Education (FEE)
 Institutional speakers included:
Prof. Saleemul Huq, Director of the Centre for Climate Change and Development (ICCCAD)
Roberta Ianna, Senior Advisor at the Italian Ministry of Ecological Transition, Italy
Adriana Venezuela, Thematic Lead for Youth at Global Center on Adaptation (GCA)
H.R.H. Princess Abze Djigma, Burkina Faso
Miroslav Poltzer, CEO International Association for the Advancement of Innovative Approaches to Global Challenges.
Lydia Birtwistle-Sawyer, Head of Stakeholder Engagement, COP26 Presidency.
Sub-goal on Youth in Global Goal on Adaptation
The key thread emerging from the four Youth Adaptation Forums held so far this year is the demand for a roadmap towards a Global Goal on Adaptation that will work for the society, including young people, particularly those in countries on the frontline of the climate crisis. 

In practice, the young people we have engaged with are calling on decision makers to establish and collectively shape a subgoal on youth participation in adaptation policy within the Global Goal on Adaptation. Young people want to be involved in decision-making and the implementation of National Adaptation Plans at the national level. They also want to have the opportunities to drive action that is meaningful and properly resourced at regional and local levels. This will ensure that adaptation focuses on transforming society and not just incremental change. A subgoal would help ensure accountability for youth inclusion, and an indicator for measuring the success of GGA in engaging youth stakeholders at the country level.

The consultations also explored other key priorities, accessibility and inclusion needs that would ensure that young people have the skills to participate fully and meaningfully in policy-making. To enhance capacity building on the ground, young people called for a change in funding models, and increasing finance flows to locally led adaptation initiatives for youth. In addition to financing, they called for proper platforms for youth innovation, engagement and development and more representation in prominent events on adaptation.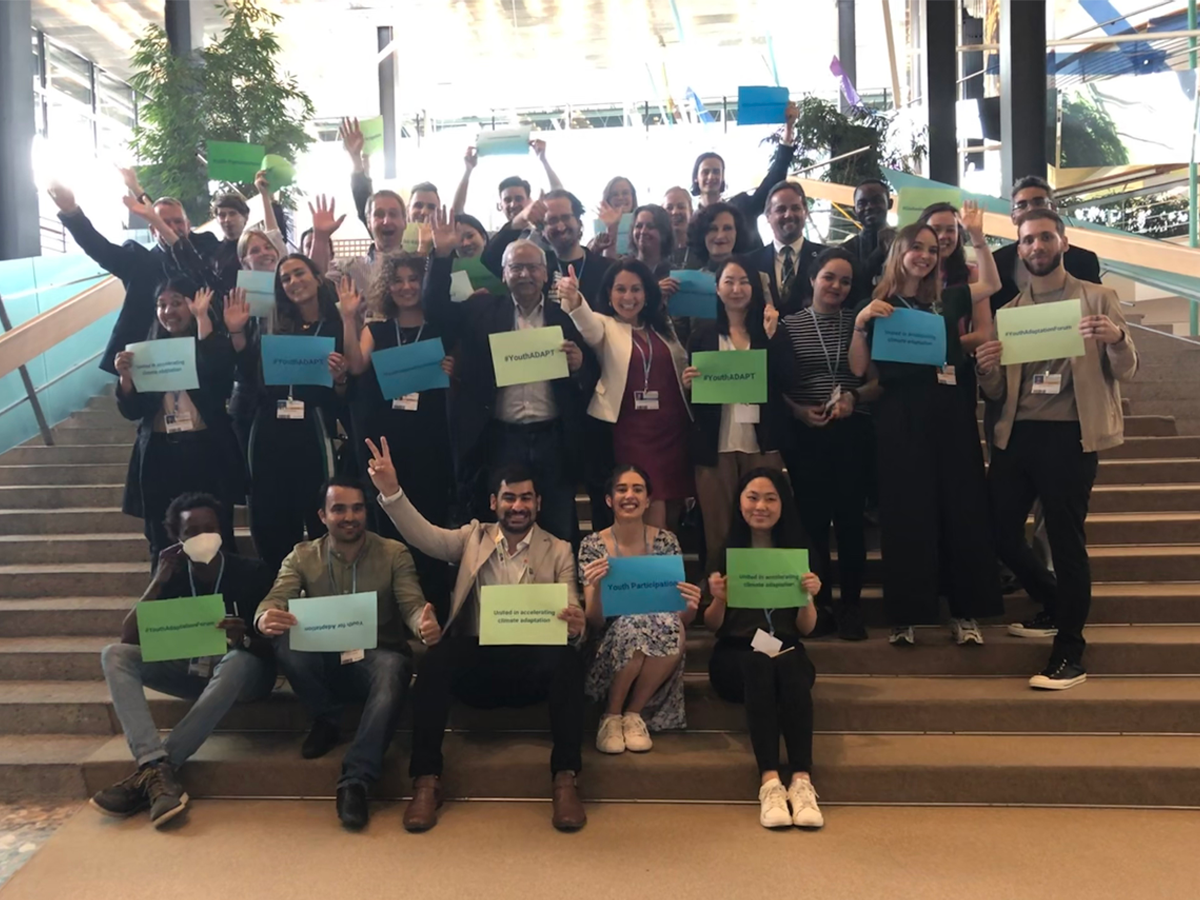 GCA Youth Advisory Panel member, Emily Vernall remarked, "Our engagements and youth forums have shown that young people are the human face of climate action and adaptation, a humanity that is lost in technical papers, but is the driving force for why we are all here today. Young people are bringing the energy, the solutions, the innovation and the vision to lead adaptation on the ground in their local contexts and communities, and are doing so because we know that we cannot wait or delay adaptation action whilst waiting for official mechanisms. In many countries around the world young people are not only adapting for their future, but their present. Our dialogues have identified key priorities on adaptation from a youth perspective but also the challenges that need addressing if adaptation is to be meaningful and aligned with the real issues many young people face in their communities. It is said that COP27 should be seen as the 'Adaptation COP' and we hope that young people can be recognized as leaders in achieving this."

Without these key priorities, youth participation in the Global Goal on Adaptation remains a huge challenge and adaptation lacks the principles of accessibility and climate justice. Technical dialogues such as those in Bonn set the agenda for COP –  if youth voices aren't present, then youth perspectives will continue to be lost in work plans and implementation. 

Recommendations discussed for governments to ensure that youth are included in adaptation policy-making and action:
Youth representation in the delegation of Parties.
Youth engagement in the design and implementation of NDCs and NAPs.
Support youth engagement platforms on the local, sub-national, and national level.
Mobilize capacity and financial support for youth skills development. 
Financial support to youth-led initiatives.
Recognition of youth as constructive partners.
The ideas presented in this article aim to inspire adaptation action – they are the views of the author and do not necessarily reflect those of the Global Center on Adaptation.
Related blog posts: