Hulhumalé, Maldives: Monumental climate adaptation effort raises hope in a threatened paradise
To adapt to rising seas as a result of global warming and relieve its overcrowded capital, the Maldives came up with an ambitious solution: the artificial island of Hulhumalé.
T he promise of palm-fringed, white sand beaches that melt into turquoise waters makes the Maldives, a paradisiacal archipelago of coral atolls dotting the Indian Ocean, rank high on most destination bucket lists. But beneath its picture-perfect surface, the low-lying island nation grapples with the harsh reality of climate change and rising sea levels threaten to completely erase the Maldives from the map.

With an average elevation of 1.5 meters above sea level, the Maldives is the world's lowest lying country. This makes it particularly vulnerable to rising seas as a result of global warming.

Last year, during COP26, President Ibrahim Mohamed Solih of the Maldives said, "if the rise in temperature remains unchecked at 1.5 and jumps to 2 degrees; that is a death sentence to the Maldives."

The President warned that if this trend is not reversed, the Maldives could cease to exist by the end of this century.

Scientists predict that sea levels could rise by more than 1.5 meters by the year 2100. Unchecked global warming could therefore submerge the Maldives, where 80 percent of a total 1,192 islands stand less than one meter above sea level.

Faced with this bleak projection, the Maldives refuses to give up hope. In fact, it has erected a "City of Hope," an artificial island that certainly qualifies as one of the world's most ambitious climate adaptation initiatives.

Hulhumalé, nicknamed the "City of Hope," is a fully reclaimed island located eight kilometers off the coast of the Maldives' capital city of Malé. Made of millions of tons of sand pumped from the ocean bottom, Hulhumalé rises two meters above sea level – more than twice the height of Malé – and was designed to relieve acute pressures on housing while offering a safe haven from rising seas to 240,000 people.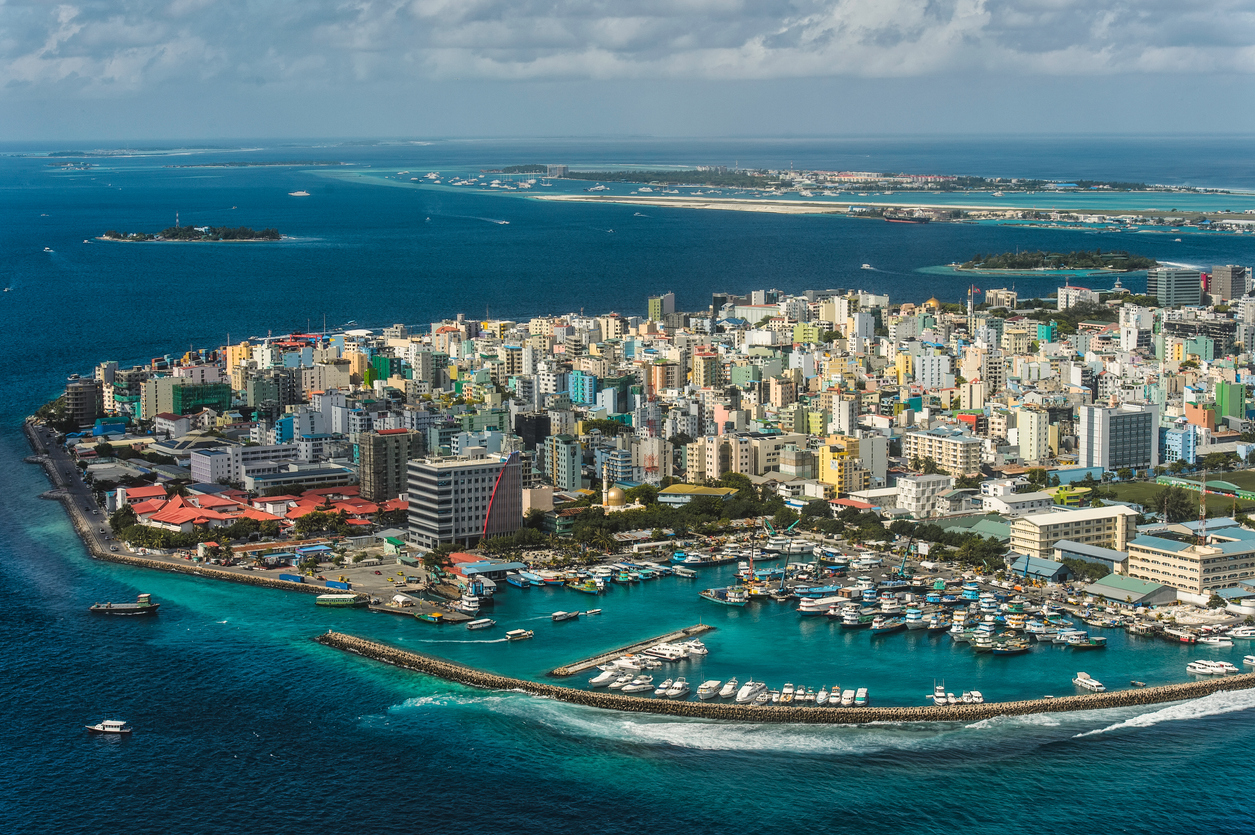 The densely populated Maldivian capital of Malé.
The Maldives' population of more than 560,000 is packed into the archipelago's 187 inhabited islands. Hulhumalé, developed as an extension of Malé, one of the world's most densely populated cities, will help relieve the overcrowded capital where more than 250,000 people reside on an islet with an area of no more than 6.8 square kilometers. By late 2019, Hulhumalé had a population of 50,000 and an area of approximately four square kilometers.

In his address to the People's Majlis, the Parliament of the Maldives, earlier this month, CEO of the Global Center on Adaptation Prof. Dr. Patrick Verkooijen described Hulhumalé as "quite possibly the biggest and boldest adaptation effort on the earth today."

Construction of Hulhumalé began in 1997 and the island has been developed in two phases connected by bridges over a channel that separates them. Phase 1, which is 50 percent completed and has a target population of 88,000, will span 188 hectares and should be fully completed by 2026. Phase 2, with a planned population of 145,000 will extend over 244 hectares and aims to be fully completed by 2035.

Hulhumalé hosts numerous housing complexes and aims to become the Maldives' first sustainable city, with residential buildings designed to reduce heat, which is expected to intensify in the future. Under a high emissions scenario, the number of days of warm spell in the Maldives could increase to an average of 360 days per year by 2100. This is why Hulhumalé's design includes wind corridors through streets that will optimize wind penetration and reduce reliance on air-conditioning. Multiple green areas, including several parks and a wetland, will also help reduce heat on the island.

Through the Maldives Ministry of Environment, solar panels have been installed on the rooftops of 1,000 apartments in social housing high rise buildings on Hulhumalé's Phase 1. The second part of this project aims to expand the solar energy system to the highway connecting Hulhumalé to the airport island of Hulhulé.

A community urban farming project on city owned land will provide local residents with garden lots to grow food using sustainable urban farming practices while engaging community members, particularly seniors and youth.

The Greater Malé area, which includes Malé, Hulhumalé, Hulhulé and Villingili, home to the world's smallest mountain, a modest peak that stands at a height of 5.1 meters, seeks to establish a sustainable waste management facility on the neighboring, also reclaimed island of Thilafushi. The Ministry of Environment aims to establish a waste-to-energy treatment plant on Thilafushi with the goal of reducing carbon emissions in the Greater Malé region.

Verkooijen, the first non-Head of State to address the Majlis, warned that, however impressive, reclaimed islands cannot revert the consequences of the climate crisis.

"You may reclaim more islands as safe havens, but you could ultimately lose everything else that's unprotected. Island building may work well in some cases – like in Malé – but is ultimately not a global solution," he said.

Verkooijen highlighted that in the climate fight "we are all Maldivians," going on to explain that "by not defending this small island nation and its people from climate devastation, we only prove that we will be incapable of defending the planet and society as a whole."

Hulhumalé is one of several extraordinary efforts undertaken in the Maldives in the race to adapt to climate change.

In 2018, researchers implemented an innovative climate solution to restore corals on Summer Island, a 3D printed ceramic reef structure recognized by the Guinness Book of World Records as the largest in the world. Fragments of coral are transplanted from a nursery into the ceramic reef to encourage coral growth.

Warming ocean temperatures pose a serious threat to corals reefs, which protect the islands from rising waters. Several bleaching events have destroyed coral reefs in the Maldives, the latest one, after the world reached record temperatures during El Niño in 2016, destroyed more than 60 percent of the island nation's coral cover.

During COP26, GCA signed a Memorandum of Understanding (MoU) with the Government of the Maldives. As pledged during Verkooijen's recent mission to the country, GCA will support the Maldives' adaptation priorities and as part of a broad program of support have started engaging on a project to quantify the country's natural assets as a means to scale more nature-based solutions.

Related blog posts: