"We are all Maldivians now," says Patrick Verkooijen in inaugural address to Parliament to announce new GCA initiative to support Parliamentarians
M ale, Maldives, 6 February 2022 – Today, Patrick Verkooijen, CEO of the Global Center on Adaptation (GCA), addressed the People's Majlis, the Parliament of the Maldives, to pledge GCA's support for the country in its race against time to save to the atoll nation from being lost to rising seas. Eighty percent of the Maldives' scattered 1,200 islands are less than 1one meter above sea level. A 2010 World Bank report warned how, at current predicted rates of sea level rise, all of the Maldives' around 200 natural inhabited islands could be submerged by 2100.

Highlighting the gravity of existential crisis facing the country as a result of climate change, Patrick Verkooijen is the first non-Head of State who has ever been permitted to address the Majlis. Speaking to Ministers, Verkooijen emphasised the vulnerability of the world to the climate emergency: "We are all Maldivians since by not defending this small island nation and its people from climate devastation, we only prove that we will be incapable of defending the planet and society as a whole."
Verkooijen spoke about plans for GCA and the Maldives to work together to forge a global Small Island States Accelerated Adaptation Program on a similar scale to the GCA's existing Africa Adaptation Acceleration Program (AAAP), an initiative endorsed by African Union leaders and led by the African Development Bank, GCA and the Africa Adaptation Initiative, to mobilise $25 billion to back African-led plans to accelerate resilience-building across Africa.
 
Verkooijen also announced the GCA, in its role as Managing Partner of the Climate Vulnerable Forum (CVF) and Vulnerable 20 Group (V20) Secretariat, will continue its work with the Maldivian government on its national climate prosperity pan which aims to deliver climate action while boosting economic growth and key socio-economic indicators like biodiversity, jobs and health. He also announced the creation of a dedicated GCA unit to support the CVF Global Parliaments Platform – a dedicated cooperation initiative of parliamentarians that will advance a common legislative agenda for integrating climate change adaptation and mitigation and disaster risk reduction in all facets of sustainable development pursuits. The CVF Global Parliaments Platform will facilitate the exchange of experiences and good practices on climate action, developing a common stand on critical climate legislation issues, and strengthening cooperation in championing the 1.5 Paris goal. 
 
During his remarks, Verkooijen highlighted the potential of adaptation solutions to help the country. He spoke about Hulhumalé, dubbed the "City of Hope" to house half the country's population, as quite possibly the biggest and boldest adaptation effort on earth today. Verkooijen also spoke about his visit to a declining reef in a South Male atoll and the potential of adaptation solutions, including the 3D printing of reef structures, to save these natural assets.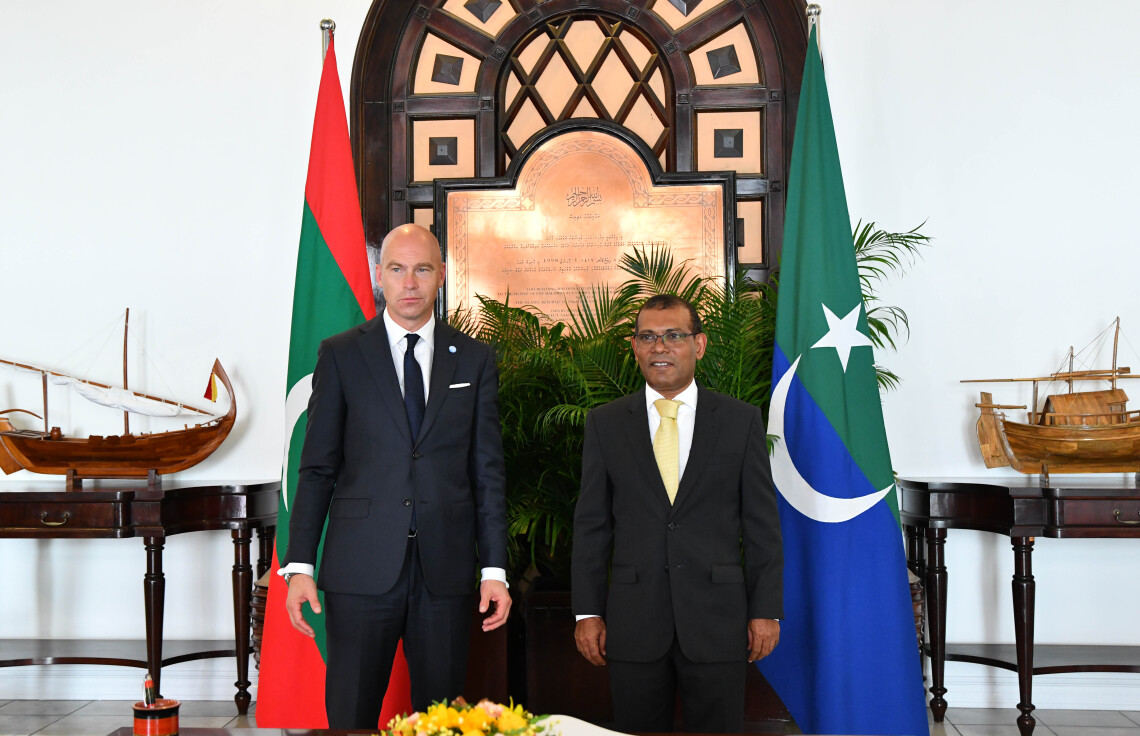 Photos and video courtesy of People's Majlis
Related posts: