The Australian farm producing tomatoes with seawater and sunlight but no soil
As wildfires rage, there are also glimmers of hope that Australia can develop new ways of adapting to climate change. Sundrop Farms is one example. It has become one of the country's leading tomato producers in a seemingly barren region – and a potential food security game-changer.
A pioneering facility just outside of Port Augusta, South Australia that uses just sunlight and seawater to grow tomatoes has become, in just a few years, one of the leading lights of the "vertical farming" movement.

Established in 2016, the Sundrop Farms facility grows 17,000 tonnes of tomatoes a year – 15% of Australia's total crop – in ostensibly arid land. It uses fresh irrigation water produced by an on-site desalination plant, powered by sunlight from a network of 23,000 mirrors directed at a 123-metre-high solar tower.

The plant, which employs around 300 people, doesn't need soil; the 180,000 tomato plants are grown hydroponically in stacks, using the 1 million litres of water processed a day through desalination.

Viability question

Sundrop's high-tech greenhouses – also established by the company in Tennessee, US and Odemira, Portugal – are seen as a leading case study in producing food in resource-scarce environments. Sundrop was recently sold to infrastructure investment firm Morrison and Co for an undisclosed sum, as interest in the vertical farming sector hots up.

Some doubts remain about the viability of Sundrop's model. It may be resource-light once up and running, but setting up the 50-acre site cost $200 million, substantially more than a typical hydroponics facility. The development was supported by $6 million in grant funding from the South Australia government.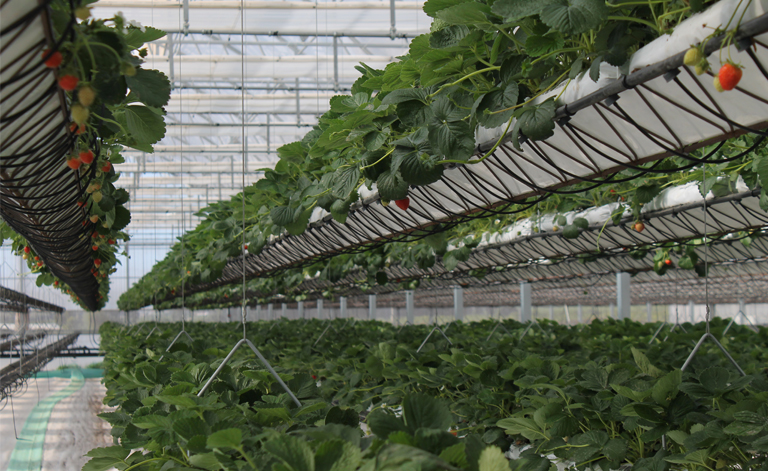 Inside it looks greener. Source: Sundrop Farms
With a 10-year agreement in place with its principal buyer for wholesale prices substantially higher than the normal market rate for tomatoes, it is also not clear if the operation can hold its own at scale commercially.

Desert siblings

There are nonetheless high hopes for the basic sunlight-seawater agricultural concept underpinning Sundrop Farms. The decade-old Sahara Forest Project – first piloted in Qatar, now being tested further in Jordan – proposes "re-vegetating" even greater swathes of desert land for farming; the initiative has backers from Norway, the EU and the US.

The buzz around vertical farming – growing crops in stacked layers using hydroponics, aquaponics, or aeroponics – is picking up speed because of growing food insecurity worldwide. The UN's Food and Agricultural Organization estimates that food production levels will have to increase by 70% from 2007 levels by 2050 to feed a projected world population of 9.7 billion.

With land for agriculture increasingly hard to find, more efficient farming methods are badly needed. The Sundrop facilities remain the only ones of their kind in commercial use in the world, but competing alternatives for seemingly miraculous agriculture in barren terrain are appearing.

The United Arab Emirates is proving a frontrunner in the field. Its International Centre for Biosaline Agriculture (ICBA), based in Dubai, specializes in innovative methods for farming in conditions with poor freshwater access and low-fertility soil. It uses seawater to irrigate crops that are salt-tolerant, such as quinoa and mustard greens, and desalinates groundwater for use with other crops.

Making a date

It also educates Emiratis producers about "precision farming": giving plants the optimum level of hydration needed to grow, and not more. 

"Date palms require about 50 litres [of water] a day in the winter and about 150 litres in the summertime. Whereas if you talk to any farmer, they provide more than 300 liters a day per tree," ICBA director Ismahane Elouafi recently told Euronews, "With precision agriculture, you give the information to the farmers that they don't need to use more than 50 litres, and sensors can also make the irrigation stop at a certain time."

Emirates Hydroponics Farm, between Dubai and Abu Dhabi, grows fruit and vegetables in water-absorbent rockwool – made from basaltic rock; one factor in a system that helps save around 90% water use, compared to traditional farming methods.

The farm, along with fellow pioneers like Badia Farms, hopes to help push the UAE towards agricultural self-sufficiency; the country currently imports 80% of its food.

With vertical farming also fast taking hold in cities, where space for agriculture is de facto limited, the sector could be worth over $22 billion by 2026, according to a recent report.
The ideas presented in this article aim to inspire adaptation action – they are the views of the author and do not necessarily reflect those of the Global Center on Adaptation.
Related blog posts: