6 ground-breaking ways Rotterdam is setting trends in urban adaptation
Rotterdam, the second largest city in the Netherlands, may not look like your typical Dutch canal town lined with tall, gabled houses and cobbled alleys. But what this city lacks in quaint beauty it makes up for in resilience.
B ombed flat during World War II, Rotterdam had to rise again from the ashes. It did so with the farfetched, futuristic flair embodied by landmarks such as Piet Blom's iconic Cube Houses and the stunning Erasmus Bridge that stretches over the river Maas.

Today, the city continues to literally stay afloat through the ground-breaking urban design that enables it to adapt to the impacts of climate change.

Like many delta cities, Rotterdam, which lies almost entirely below sea level, is particularly vulnerable to climate change, rising sea and river levels and flooding. In recent years, urban planners have devised innovative solutions that respond to climate change-induced heavy rainfall, flooding and heat waves, such as rainwater storage, green spaces and floating infrastructure that will rise with increasing water levels.

"You could say that water resilience in particular is in Rotterdam's DNA. Already for centuries, Rotterdam – a delta city with water coming from all directions – has adapted to and learned to live with water," said Arnoud Molenaar, Chief Resilience Officer of the Rotterdam Municipality and GCA's Lead Cities.

The following six Rotterdam sites are prime examples of how this resilient city lives and breathes adaptation:
1. Floating Office Rotterdam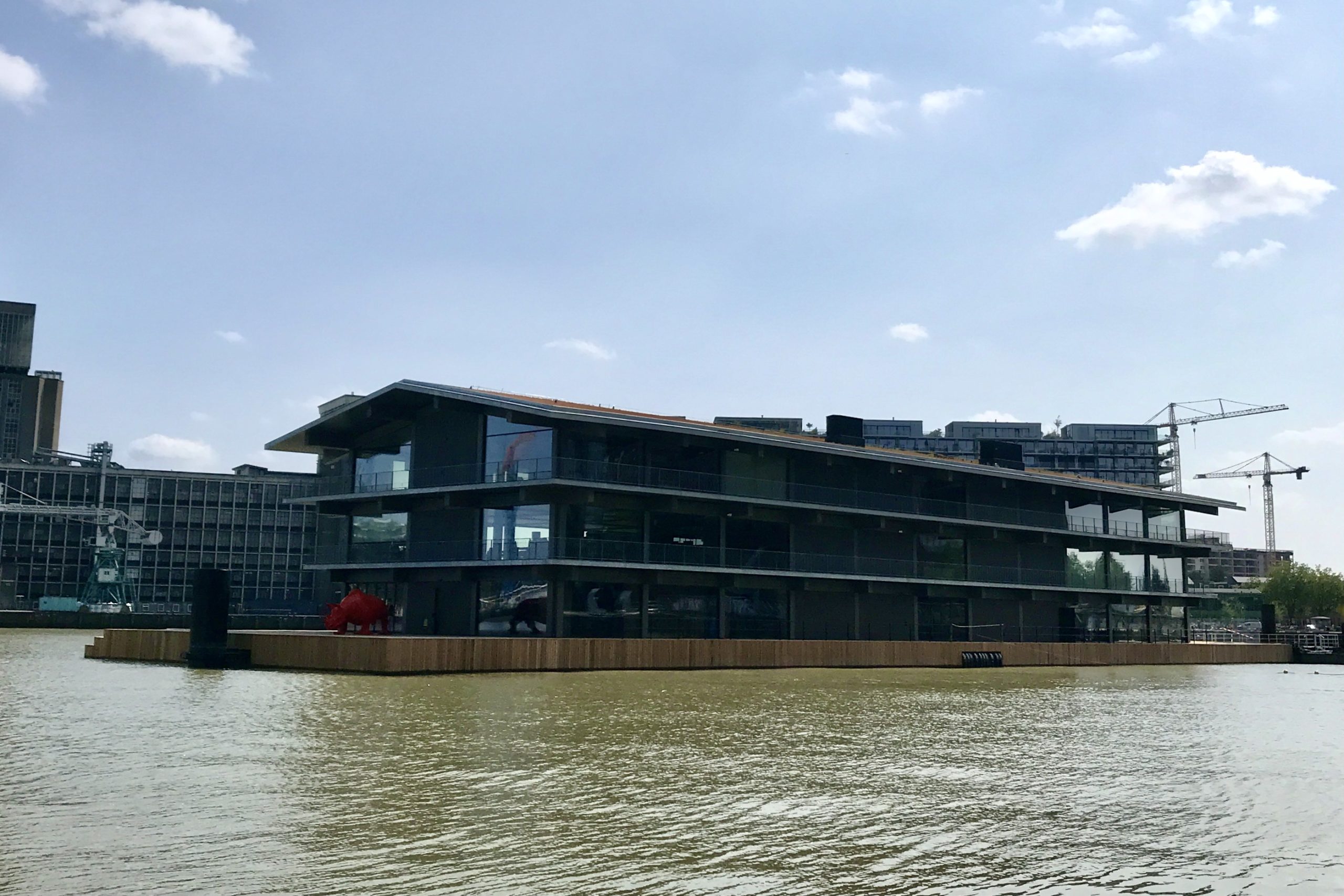 The Global Center on Adaptation floating office in Rotterdam
First off is GCA's brand new headquarters, the world's largest floating office. Floating Office Rotterdam, docked at Rotterdam's Rijnhaven port, is designed to rise with growing water levels, a symbol of the Dutch philosophy of learning to live with water rather than fighting it. From its roof, which is half layered with solar panels and half green, to its base, where a heat exchange system generates energy from the Maas River, this office building is completely self-sufficient. Floating Office Rotterdam is made almost entirely from sustainable timber and can be completely disassembled so that its materials may be reused. The building will be officially inaugurated on 6th September.

2. The Dakpark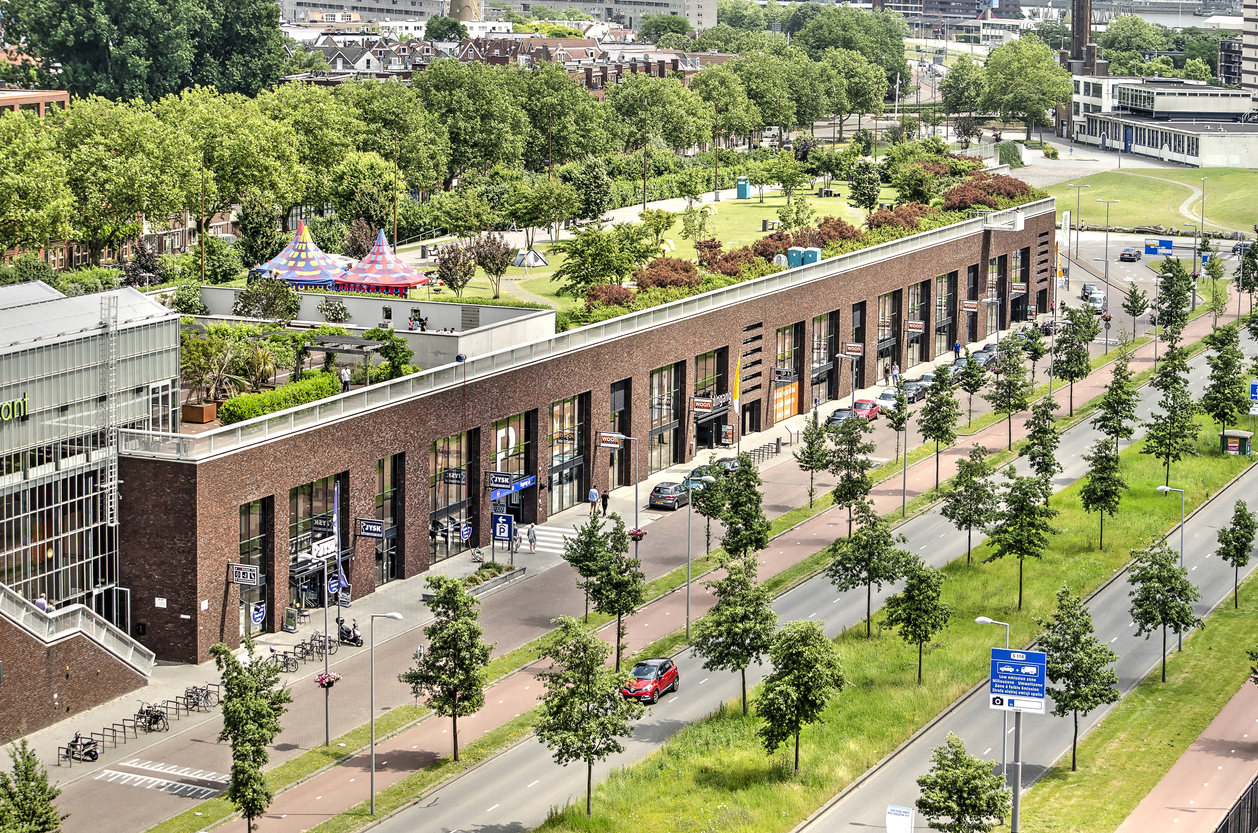 The Dakpark is a recreational park on top of a shopping center that lies above a dyke in Delfshaven
The Dakpark, Dutch for "roof park," is an enormous, recreational park planted on top of a shopping center that lies above a dyke in the historic neighborhood of Delfshaven. At a height of 9 meters and stretching over 1 kilometer in length, the Dakpark is one of Europe's largest public rooftop parks and boasts a spectacular 360 degree view of Rotterdam's ports and skyline. The park, completed in 2014, is a green oasis in the city and contains a vegetable garden, composting bins and even sheep can be spotted grazing in its meadows. With an integrated dyke to provide flood defence and all the benefits of green roofs, such as absorbing rainwater runoff and decreasing heat, all while promoting healthy activities and social interaction, the Dakpark certainly qualifies as a nature-based solution.

3. Benthemplein Water Square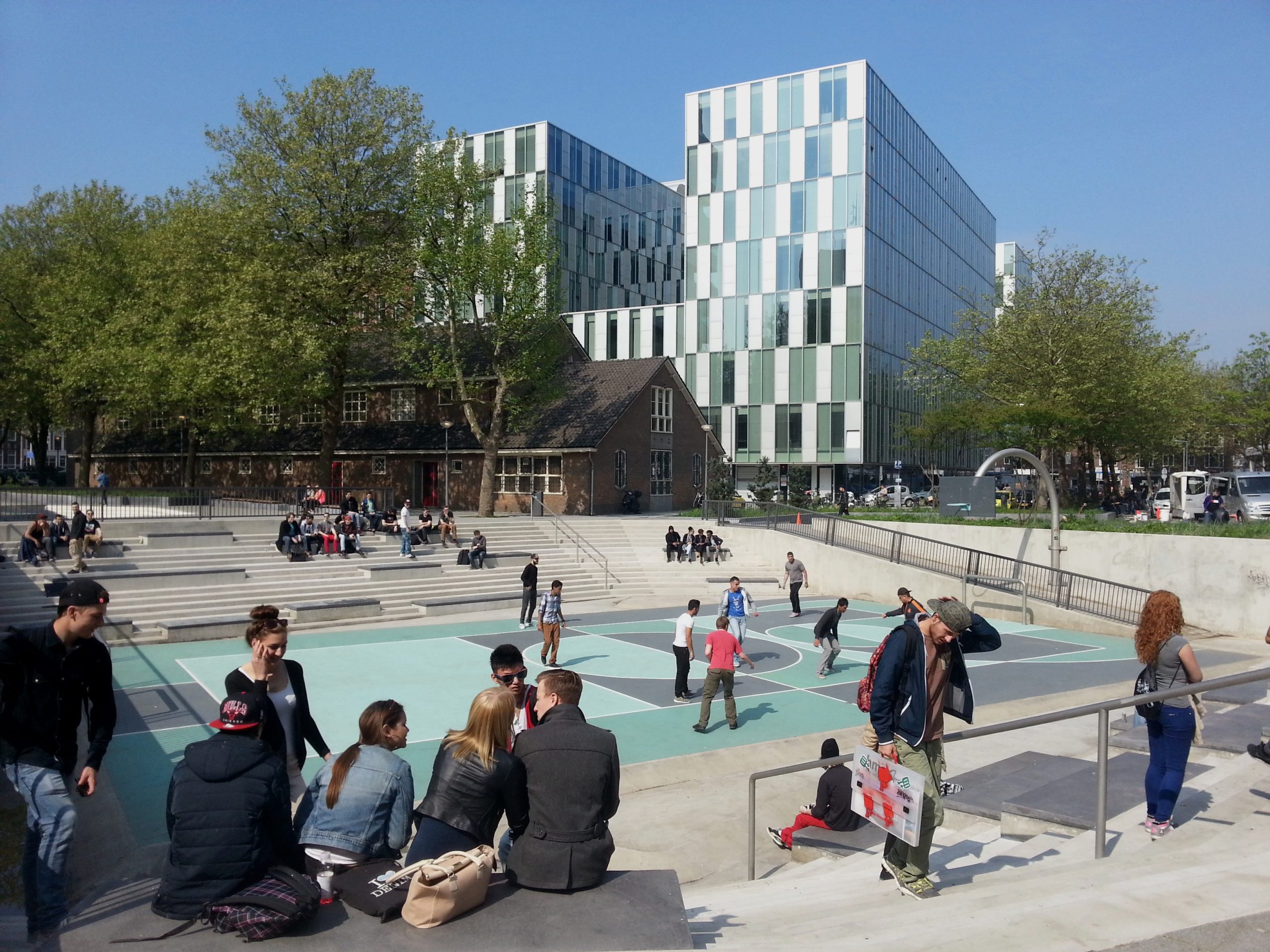 The Benthemplein Water Square stores rainwater and serves as a recreational space (Photo courtesy of Arnoud Molenaar)
Water squares fulfil the twofold function of storing rainwater and providing a recreational public space in urban settings. Benthemplein Water Square, inaugurated in 2013, is the world's first full-scale water square and offers an ideal space for activities such as skateboarding, basketball and performance arts in pits that can store almost 450,000 gallons of rainwater. This vast storage capacity is designed to ease stress on the sewage system and prevent urban flooding during extreme rainfall events, such as those that recently battered Germany, Belgium and the Netherlands.

4. Luchtpark Hofbogen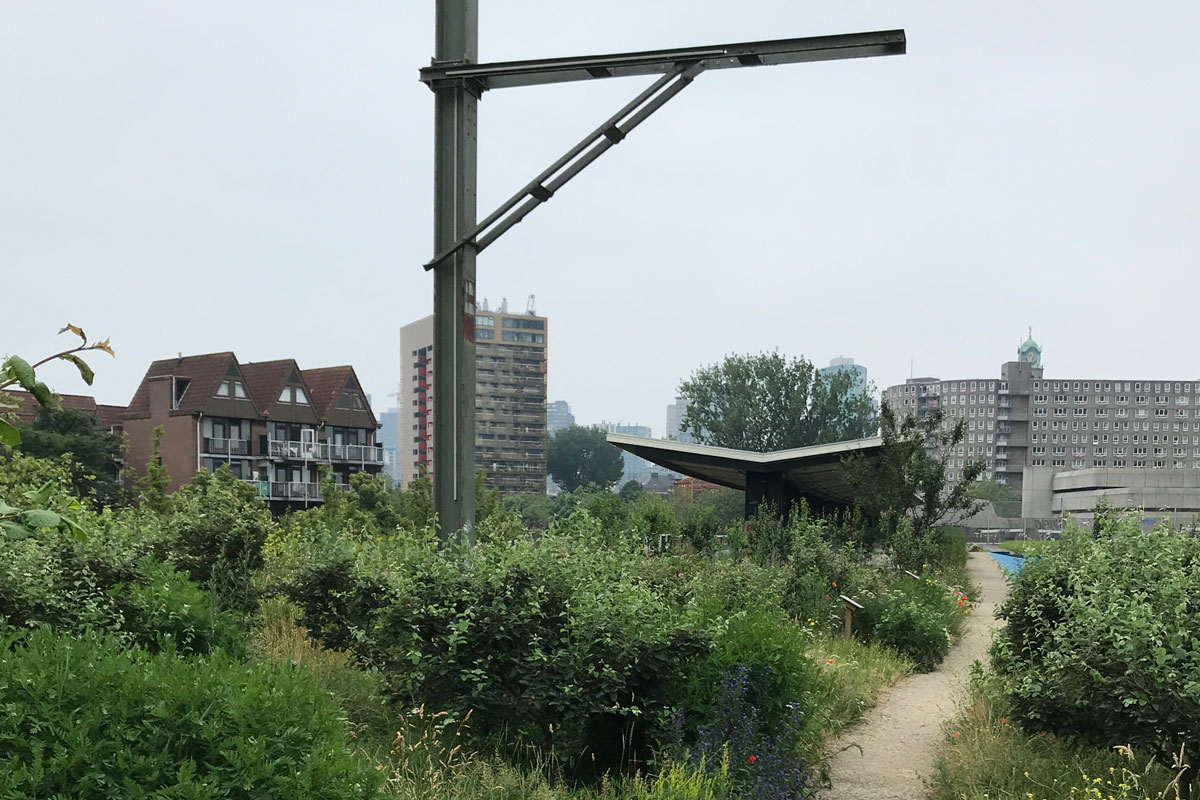 Luchtpark Hofbogen is Rotterdam's version of the New York City High Line
A few years ago, trains used to zoom over the 1.9 kilometer long Hofplein railway viaduct. Nowadays, the rooftop of former Hofplein Station has been transformed into a luchtpark, Dutch for air park, dotted with fruit trees, shrubs and vegetable beds. The concept of Luchtpark Hofbogen, opened in 2018, is similar to New York City's High Line, also built above an elevated rail track. Hofplein's green rooftop helps Rotterdam restore urban ecosystems and absorb rainwater runoff.

5. Nassauhaven Floating Homes
Nassauhaven is the first floating street in Rotterdam (Photo courtesy of Public Domain Architects)
Rotterdam locals know only too well that land to build in this city is scarce. But there's plenty of water here and the Nassauhaven floating neighborhood makes great use of it. Eighteen floating sustainable homes are moored in this previously unused harbor. They have solar panels, their own water purification system and generate heat through a biomass installation.

6. Westersingel Urban Floodplain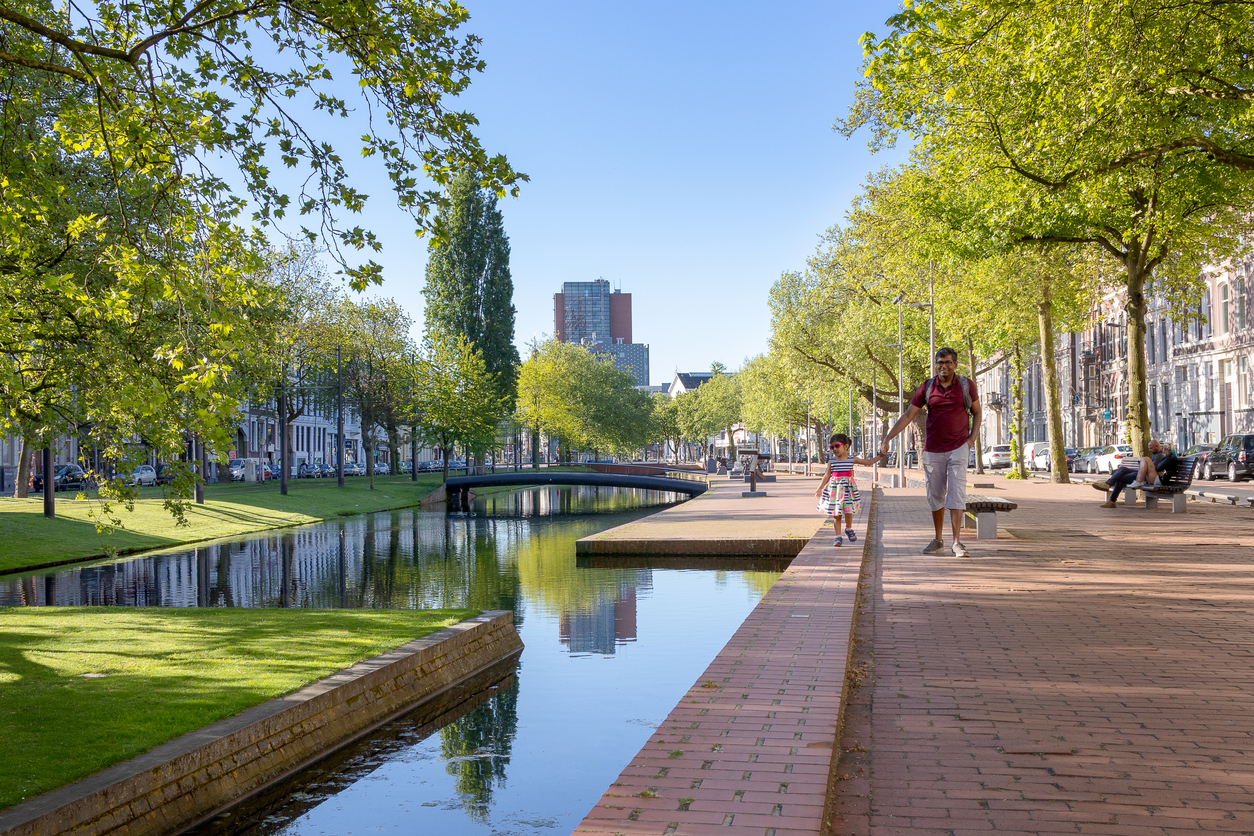 The Westersingel, a popular walking boulevard lining a canal near Rotterdam's Central Station, is designed to become a floodplain during extreme weather events, keeping the busy city streets from flooding. Most of the time, however, the Westersingel serves the purpose of displaying artwork and offering an attractive stroll to the city's Museum district.

The ideas presented in this article aim to inspire adaptation action – they are the views of the author and do not necessarily reflect those of the Global Center on Adaptation.
Related blog posts: