Youth in Climate Adaptation: Moving towards the Digitalization of Agriculture
I ncreased pest infestations, longer periods of drought, greater food insecurity, migration and conflict may sound apocalyptic, but they are actually some of the biophysical and socioeconomic effects of climate change on agriculture that the world is witnessing right now.

The impacts of climate change on agriculture threaten the most vulnerable communities, usually in developing countries that have considerable young populations (see Figure 1). Although climate change is a youth issue, the level of youth participation in climate action and agriculture is low.

For instance, while sixty percent of Africa's population is under 24 years of age, the average age of traditional farmers in the continent is 60.

One of the main obstacles to youth participation in traditional agriculture is a lack of resources, according to the World Bank. Little or no access to land; lack of access to financial services including capital for investment, credit, and insurance that hinder entrepreneurship; restricted access and information on markets; inadequate knowledge and skills trainings and prominently, a lack of employment opportunities are all barriers to youth involvement in agriculture. Consequently, youth are forced to migrate to urban areas to improve their livelihoods.

The drudgery and poor economic returns of traditional agriculture have made it unattractive to young people. This means we need to modernize, digitalize, and set markets in motion so that agriculture can provide a meaningful – and not just subsistence – livelihood for youth. We need youth in farming – we need innovation, creativity and digital-savviness to address the challenges of climate change.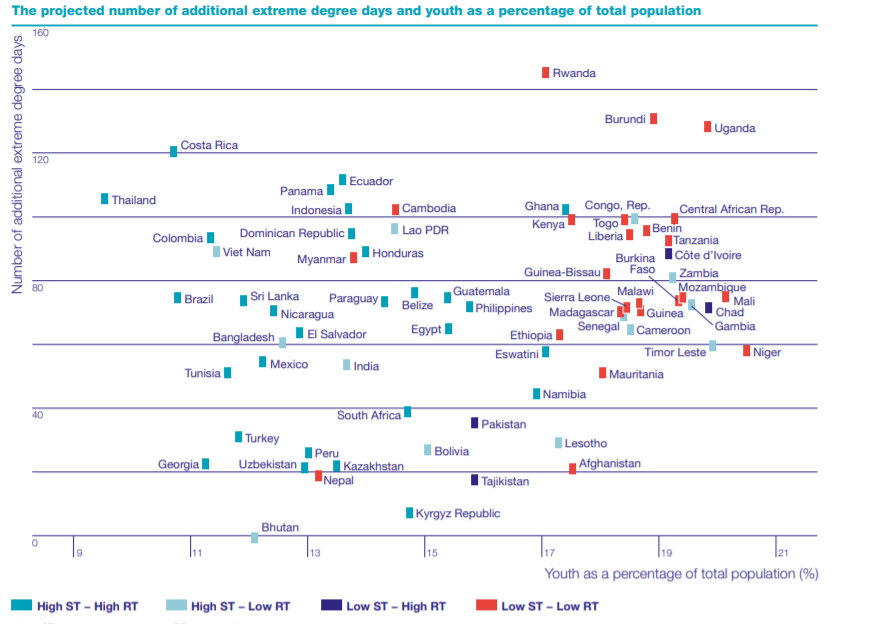 Figure 1: From the IFAD 2019 Rural Development Report highlights vulnerability to climate change by showing the population of young people versus the number of additional extreme degree days experienced in various countries. NB: ST stands for Structural Transformation; RT: Rural Transformation.

The Digital Transformation of Agriculture
Opportunities for change have recently emerged within the Fourth Industrial Revolution. Developments in Information and Communication Technology (ICT) tools are driving towards the digital transformation of agriculture.

A digital system is the result of a multitude of digitalization processes – moving from supply chains to digital supply chains – and an essential step towards digital transformation. The digitalization of agriculture means that there is an opportunity to increase production and productivity while boosting resilience to climate change.

While traditional agriculture may not interest young people, they are the main drivers of its digitalization. ICT for agriculture not only makes work easier but also generates connectivity and profits. This attracts innovative young people who can further build on these systems.

Digitalization offers not only a more attractive farming livelihood, but also opportunities for youth to serve as infomediaries: youth working as suppliers of information, insurance and other services such as reducing losses at farm level using precision agriculture, geo-information services, managing post-harvest losses and having more climate-friendly distribution and transportation.

The Benefits of Youth Participation
These trends have made one thing clear: given the right resources, youth can lead the digitalization wave. Factors that further cement the need for youth participation in the digitalization of agriculture include:
The specific need for digital advisory and climate-informed agricultural services during the COVID-19 pandemic.
Exploring new business models: the youth thirst for entrepreneurship and seek to engage in agribusiness that makes work 'easier.'
Young people are the majority where these services are needed.
Co-production and global connectivity: youth are connected via the web and are constantly engaging with other young people around the world in real-time.
Recognition of the importance of young people in the job market.
The need to develop best digital practices across regions.
To improve youth participation in agriculture through its digitalization, the adaptive capacities of youth must be improved. This can be done by increasing financial flows into innovative systems for youth and ensuring that they are accessible. Also, policy interventions must recognize that young people have agency and are not homogeneous and youth from diverse backgrounds, with different skill sets, must be included in the fourth industrial revolution.

Young people like myself have an unparalleled opportunity to strengthen the resilience of agricultural systems and help the world adapt to climate change.
Emily Ongus, 31, is an agronomist with an MSc. in International Land and Water Management from Wageningen University in the Netherlands. She was a GCA Young Leader between February and August 2020, focusing on Youth Action and Agriculture and Rural Livelihoods. Currently, she is a Research Associate for the World Agroforestry Centre in Nairobi, Kenya and sits on the board of the Youth Alliance for Zero Hunger.
Related blog posts: