Photo courtesy of Waterstudio/Dutch Docklands Maldives
5 reasons why floating development is set to take the world by storm
Not long ago, the concept of a floating metropolis was the material of science fiction. Today, the world's first floating cities are set to rise from the waters of the port city of Busan in South Korea and the Maldives archipelago, where rising sea levels pose an existential threat to the low-lying island nation.
A s this emerging industry gains momentum, the benefits of floating infrastructure are increasingly being recognized. For the first time, floating urban development was included in an IPCC report this year. The city of Rotterdam, Netherlands, where the Global Center on Adaptation (GCA) is headquartered in the world's largest floating office, is highlighted in the report for its expanding floating housing market and its floating pavilion, which is cited as a model of transformative urban adaptation.
Floating development can not only help vulnerable communities adapt to intensifying climate impacts, it can also support energy and food production, relieve overcrowded cities, and contribute to protecting the environment.
Click To Tweet
Moreover, with more than half of the planet covered in water, there's plenty of space to expand.

Ninety-five experts, entrepreneurs, researchers and participants from around the world explored these benefits at the Knowledge Exchange on floating development organized by GCA's Water and Adaptation Community (WAC).    

Below are five reasons why experts agree that floating development is a promising adaptation and environmental solution – and likely here to stay.
1. Floating infrastructure is designed to rise with water levels.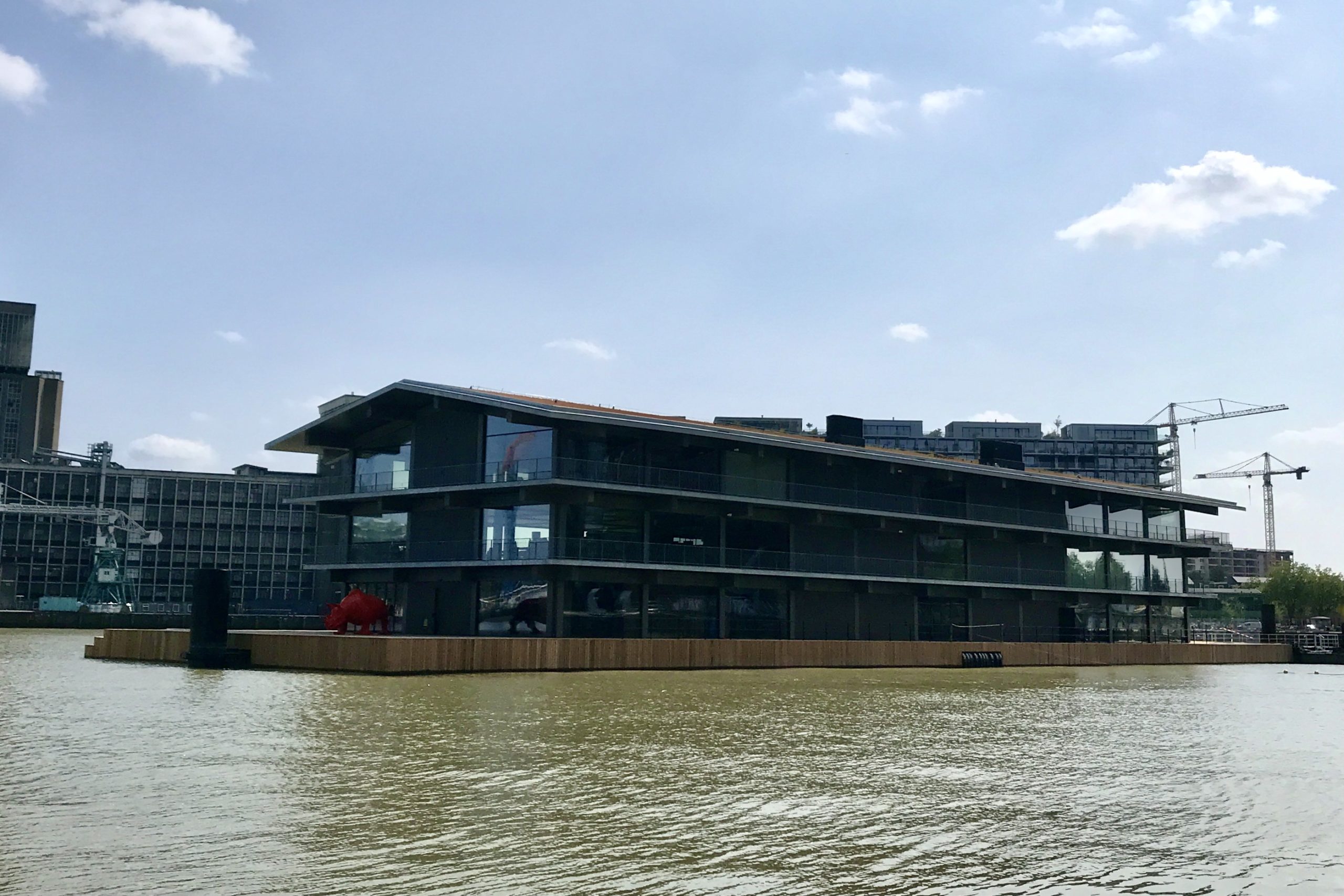 The Global Center on Adaptation (GCA) is headquartered at the world's largest floating office in Rotterdam, the Netherlands
A consequence of global warming, sea level rise is accelerating and could be a meter higher by 2100, according to the IPCC – an alarming projection considering that half of the world population lives within 100 km of the coast. What better way to adapt, not just to rising seas, but to extreme weather and flooding, than by designing infrastructure that cannot be submerged? Take the Netherlands, for instance, a flood-prone country that lies mostly below sea level, where climate change and rising sea levels pose grave threats. Instead of viewing water as the enemy, the Dutch have embraced it and boast a long history of adapting to water based risks. A world leader in water management, this densely populated country is a pioneer in floating development that can be moved as needed – from floating communities and a floating farm, to floating solar and food production technology.

Based on the premise that water can provide a flood-resilient living space, the Dutch research initiative Floating Future, a coalition of more than 30 stakeholders including universities, research professionals, companies, NGOs, and government agencies, creates floating demonstration islands to generate knowledge about floating construction. The technique to develop the islands could become a unique Dutch export product for low-lying, densely populated delta regions around the world.
2. Cities are overcrowded and we're running out of sand for land reclamation. Floating development offers a more eco-friendly alternative.
Sand mining in Maharashtra, India
Today's cities only provide 40% of the space required to house the world's population by 2050. Most cities create space through land reclamation – however, we are running out of sand, Blue21 Project Coordinator Vicky Lin warned.

"Sand is the most extracted resource on the planet," said geographer Dr. Chris Hackney, from Newcastle University in the United Kingdom. Dr. Hackney highlighted that we extract around 50 billion tons of sand every year, mostly for construction, but also to make silicone chips, and to filter water and wine. Industrial scale extraction is a grave threat to freshwater ecosystems and it degrades water quality, he explained.  

Floating development offers an alternative to this practice by creating living spaces on the water.  

Floating structures can also provide green spaces and improved water quality. Nature-based solutions like floating gardens and wetlands offer habitats for aquatic life such as mussels and fish.
3. Floating agriculture, gardening and farms provide urgently needed space for food production.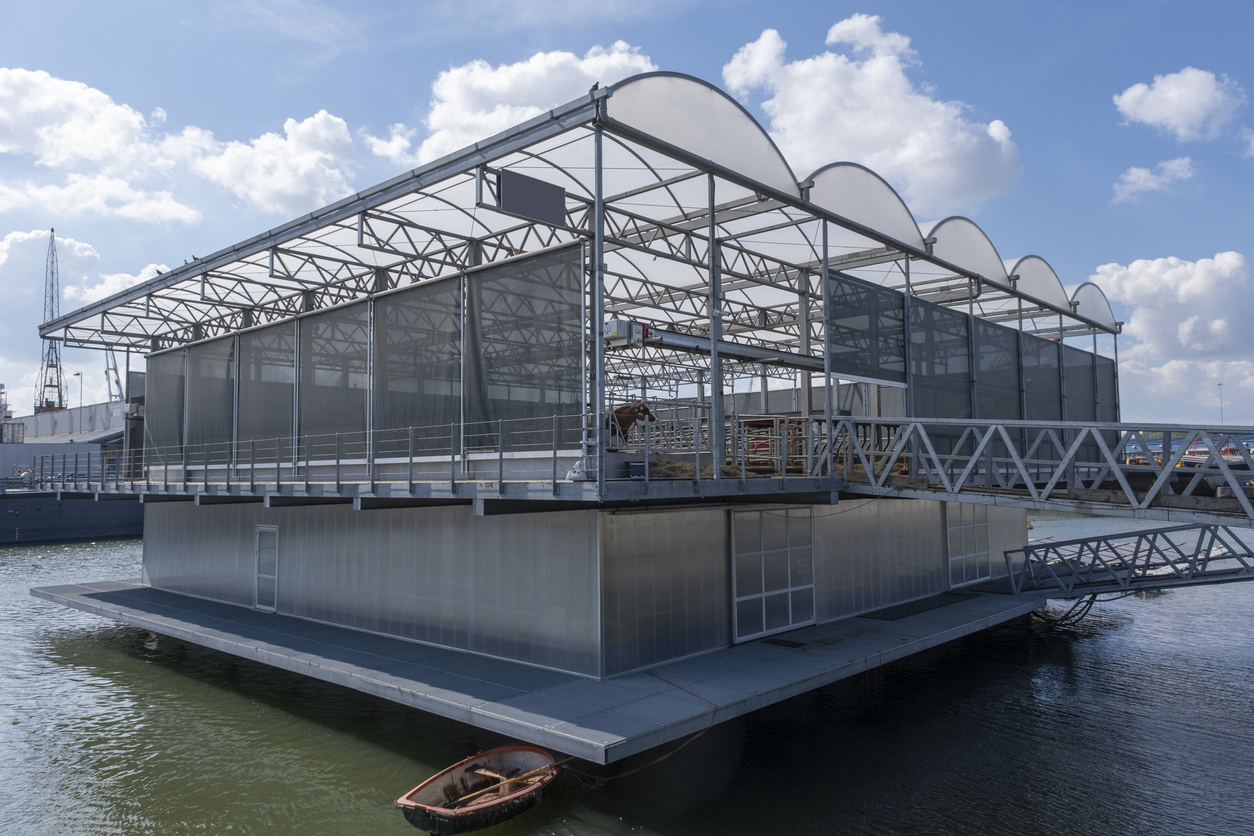 The world's first floating farm, also in Rotterdam, the Netherlands
"If we continue to harvest and produce food the way we do, by 2050 we will have a shortage of land the size of North America," said Ms. Lin.

Floating development provides ample space for food production, as well as helping communities adapt to intensifying climate impacts, such as flooding, which decimates agricultural yields.  

In Bangladesh, the age-old tradition of floating agriculture, which dates as far back as the 1600s, is gaining momentum as an innovative climate adaptation strategy and Nature-based Solution, explained Dr. Haseeb Md. Irfanullah, a Dhaka-based independent environment and climate change consultant. Supple water hyacinths are used to build a floating base on which to grow seedlings or vegetables without the need for soil. This low cost, agricultural method is particularly useful in Bangladesh, a low-lying, extremely flood-prone country.

On the other side of the world, the port of Rotterdam is home to the world's first floating dairy farm, run by CEO Peter van Wingerden. The three story farm houses 40 free range cows and produces cheese and organic fertilizer. The floating farm is a scalable project. "Water is universal," said Mr. van Wingerden. "We designed something we can copy everywhere in the world."

The Dutch company Floating Future – not to be confused with the research initiative – is a team of scientists, biologists, and engineers, develops floating technology to enable food production all over the world. They are developing 'food islands' that can be linked together, where crops can grow using hydroponics.
4. Floating development can provide us with renewable energy, like solar and wind power.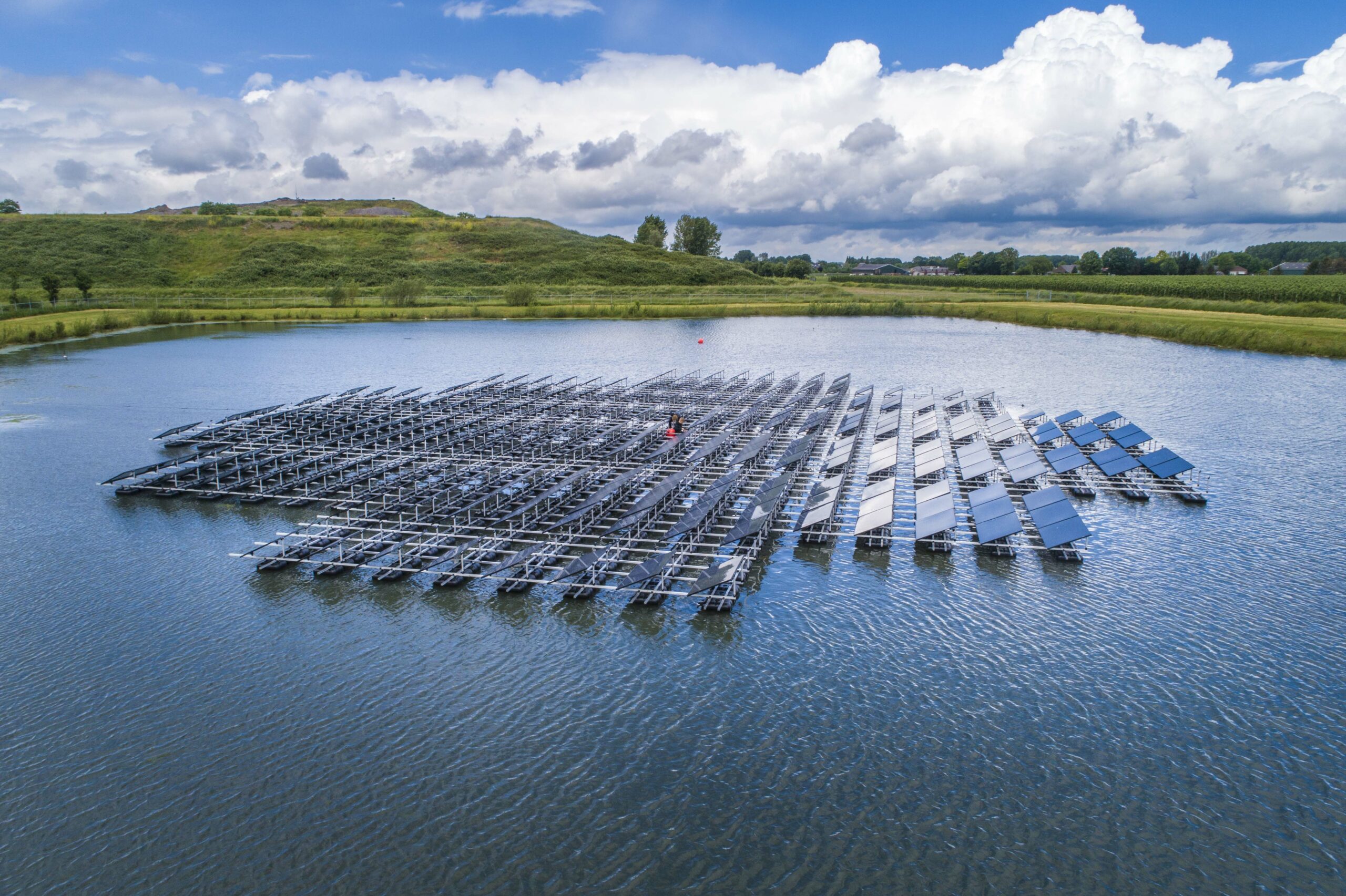 Waterschap Rivierenland's floating solar project, INNOZOWA, in the Netherlands
One of the disadvantages of solar farms is that they take up a lot of space. In the case of wind energy, remote sites are the most suitable for wind turbines. Moving these systems to the water could offer a solution.

"We have a lot of water in Holland, so the potential [for floating solar] is really, really big," said Bjorn Purdon, of the Rivierenland Water Authority, which started an innovative project to develop floating solar systems on shallow waters, such as canals and pools.  

Floating solar photovoltaic panels, which convert thermal energy into electricity, are lightweight and storm-safe – they can be submerged and protected in stormy weather. The Water Authority has started researching the environmental impact of floating solar energy, but the long-term impacts of this method are currently unknown. Because the commercial solar market has expanded significantly, there is a pressing need to continue to monitor the long-term environmental impacts of floating solar, particularly on inland water bodies.
5. Floating infrastructure can also be affordable.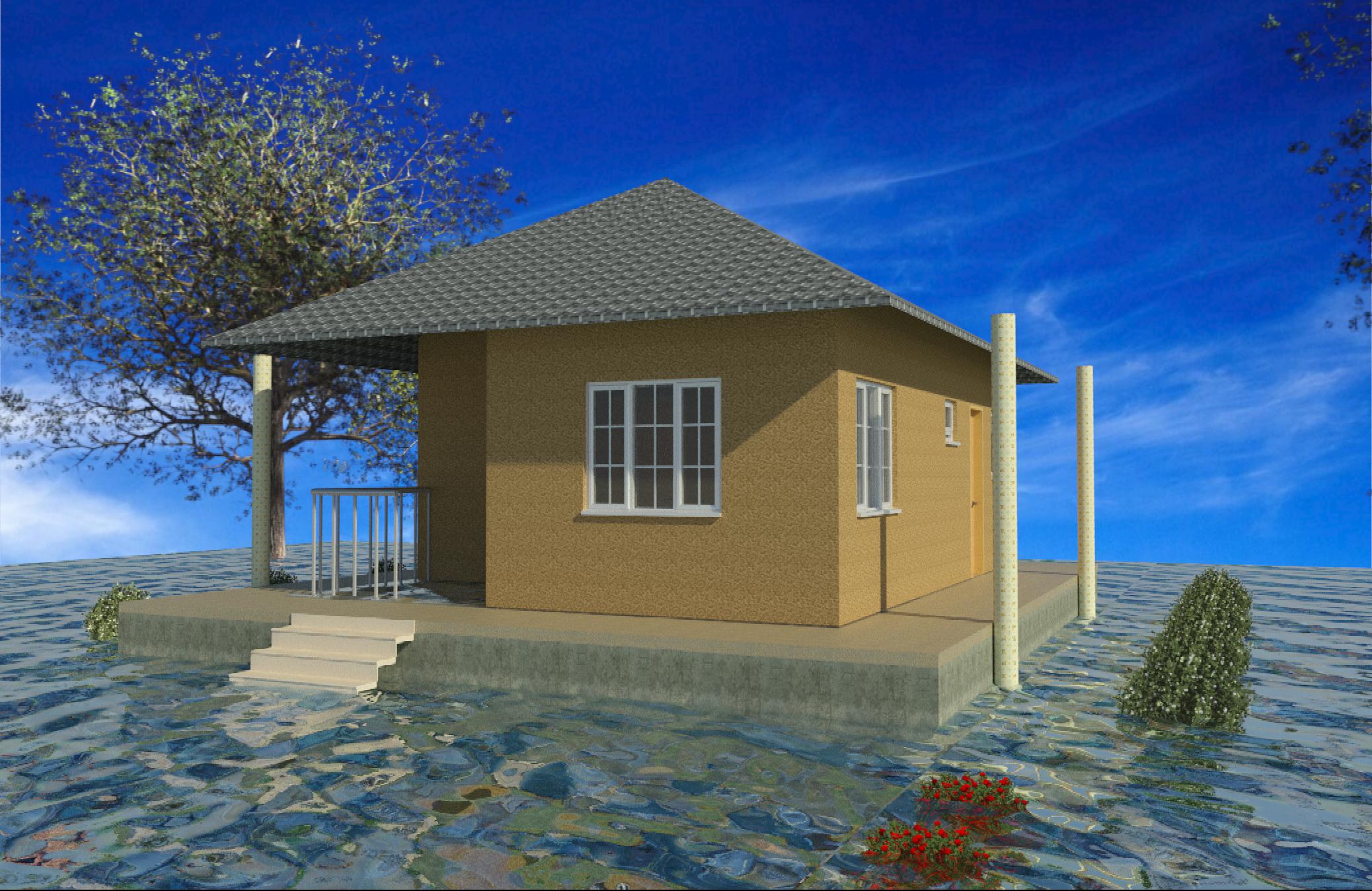 Cost-effective, flood resilient model house with amphibious, buoyant foundation developed by NestAbide in India
Low-cost floating housing options are being developed around the world. In flood-prone India, NestAbide, an architectural firm that works on technologies used in flood scenarios, is developing affordable amphibious floating homes.

"Adaptation is not easy, but we are trying to do everything possible to make this technology – amphibious housing – as economical as possible. Everyone needs a chance to stay afloat to live and thrive. We are working on realizing amphibious buildings in Kerala and simultaneously working on the legal framework and demand creation of both amphibious and floating city developments," said Co-founder of NestAbide Er. Nanma Gireesh, 28.

The Netherlands-based enterprise Flinch Floating Homes uses a barrel floating foundation and prefabricated design tailored to meet the needs of Filipino families while protecting them from flooding.

The startup company Nets23D, based in South Africa, recycles fishing nets, turning them into modular structures and 3D printing compounds to build resilient and affordable floating infrastructure.

"Floating development is such an exciting space to be in because we can use this as an opportunity to rethink how things are done and take the best of what works from on land, but do brave and sustainable structures on water," said Nets23D CEO Rosalie Akerman.

GCA's Water Adaptation Community (WAC) aims to connect all those who work on water issues and Nature-based solutions across sectors and professions to share experience and knowledge. Its purpose is to support scaling up and jointly overcoming implementation challenges. The WAC goes beyond the "water sector" to bridge the entire Water Community, whose members work on all issues that affect water, from food security to city planning, climate and disaster management. They include practitioners, such as planners and decision-makers at different levels, implementers, managers and operators.
Related blog posts: