GCA CEO approaches leaders of the African Union to discuss alignment of adaptation priorities
A ddis Ababa, Ethiopia, 12 July, 2022 – The CEO of the Global Center of Adaptation (GCA), Professor Dr. Patrick Verkooijen, paid courtesy visits to the leadership of the African Union Commission (AUC) to discuss how GCA's flagship Africa Adaptation Acceleration Program (AAAP) can further support the African Union's priorities and programs.

Professor Verkooijen today met with AU Commission Chairperson Moussa Faki Mahamat, who is also a member of GCA's Board, and on 11th July he visited AU Commissioner for Agriculture, Rural Development, Blue Economy, and Sustainable Environment, Josefa Leonel Correa Sacko.

Chairperson Moussa Faki, who heads the Executive Council of the pan-African AUC, participated in the Leaders' Dialogue on the Africa Covid-19-Climate Crisis in April 2021 organized by GCA. In the meeting he repeated his support for the AAAP as one of the key programs needed for the African continent to accelerate adaptation action.

In the meeting with Commissioner Sacko, the discussion centered on GCA's crucial work with the AUC, a AAAP partner, and the need to further strengthen their collaboration to drive climate adaptation where it is most needed in Africa. Commissioner Sacko highlighted that the AUC is committed to adaptation and that the AAAP is an important vehicle for the Africa Adaptation Initiative launched at COP21 in Paris in 2015.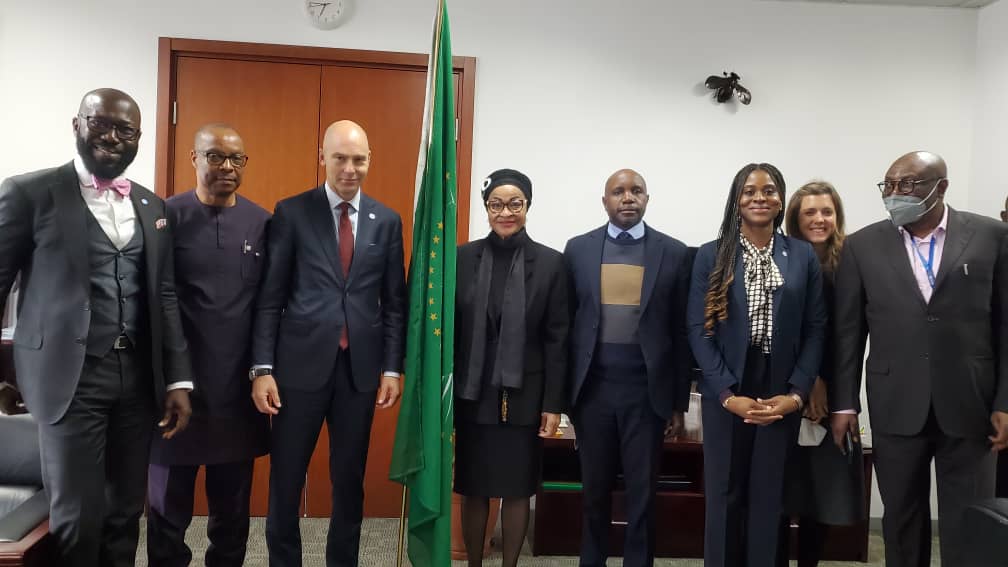 The AAAP is an Africa-owned and Africa-led initiative launched jointly by GCA and the African Development Bank (AfDB) with the support of the African Union and African leaders. The AAAP is mobilizing $25 billion for adaptation investments in Africa in the next five years. GCA's AAAP Upstream Financing Facility is mainstreaming the best climate adaptation science and solutions into programs across Africa. In its first year of operation, the Upstream Financing Facility has influenced more than $3 billion of downstream investments with Multilateral Development Banks in 19 countries across Africa.

About the Global Center on Adaptation
The Global Center on Adaptation (GCA) is an international organization that works as a solutions broker to accelerate action and support for adaptation solutions, from the international to the local, in partnership with the public and private sector. Founded in 2018, GCA operates from its headquarters in the largest floating office in the world, located in Rotterdam, the Netherlands. GCA has a worldwide network of regional offices in Abidjan, Cote d'Ivoire; Dhaka, Bangladesh and Beijing, China. 
Related posts: