Youth at the Helm of the Adaptation Agenda: GCA's Youth Advisory Panel holds first meeting with CEO
With the River Maas rolling gently in the background, on 23rd September, the CEO of the Global Center on Adaptation (GCA), Prof. Dr. Patrick Verkooijen, inaugurated his first meeting with the Youth Advisory Panel.
V erkooijen kicked off the meeting by sharing that his current location, GCA's headquarters at the largest floating office in the world, is a testament to innovation and the notion that bold ideas can be implemented in record time.

Similarly, with youth leadership at the core of its agenda, GCA launched its Youth Adaptation Network (YAN) in 2020 with the objective of empowering youth to take adaptation action and has expanded to include members in more than 130 countries, explained Adriana Valenzuela, GCA's Youth Leadership Program Lead.

The 12 members of the Youth Advisory Panel, gathered virtually for the first of their quarterly meetings with the CEO, belong to the YAN and will support the adaptation efforts of the network, collecting their input and assisting in the implementation of YAN activities, such as the monthly Youth Adaptation Dialogues.

During the meeting, Verkooijen spurred a lively exchange of views on how to drive forth the climate adaptation agenda by asking panel members to define what success means for them so they may reach a common understanding of how to achieve it by working together.

"The climate emergency is here and now, obviously you will face the brunt of its impacts over time, but its my strong conviction – although some of these impacts are still in the future, many of them are already here – we need to adapt now. We need to fight this battle on two fronts, we must reduce the carbon footprint and adapt to the changing climate," said Verkooijen, highlighting the urgency of positioning adaptation, which he referred to as "the orphan child of the climate debate," as a priority action at the upcoming UN Climate Change Conference (COP26) in Glasgow.

"There are these turning point moments, when the world decides we go left, or the world decides we go right. And if we miss the Glasgow opportunity to place adaptation at the front and center, humanity, quite frankly, is in great jeopardy," he warned.

Verkooijen pointed to the crucial role of youth in cementing the climate adaptation movement in this race against time.

"If you keep telling me, which is true, 'the house is on fire,' you know what? We need to work in very concrete terms, just talking about it is relevant, but it isn't going to get us anywhere," Verkooijen added.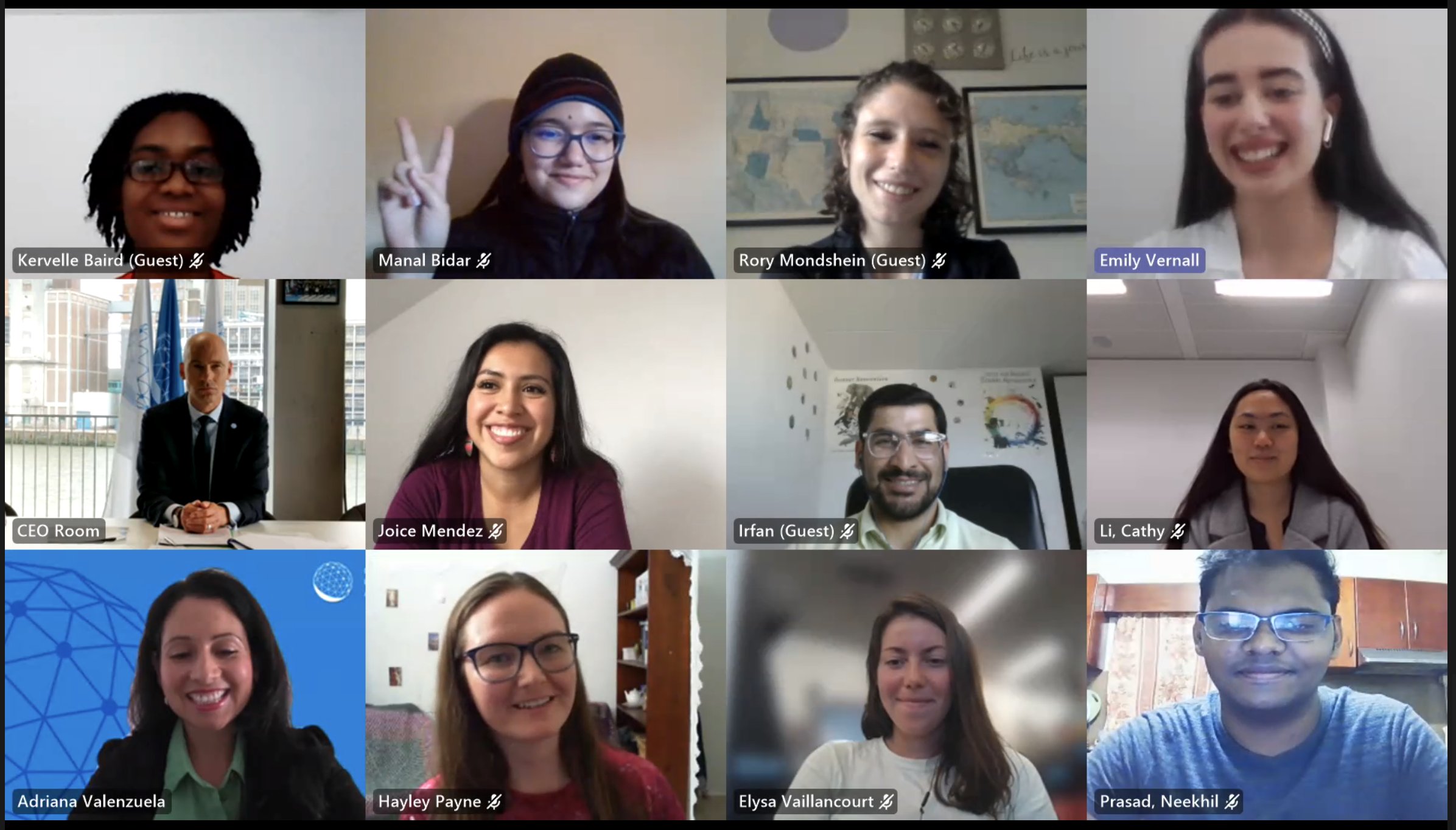 CEO of GCA Prof. Dr. Patrick Verkooijen held his first meeting with the Youth Advisory Panel in September.
For many of the Panel members, achieving success in adaptation action is about results.

Desmond Alugnoa, 31, from Ghana, thanked GCA for being one of the few organizations that give youth a platform and recognize them as people who are capable of contributing to the agenda.

"In my part of the world, in Africa, we need to broker knowledge, we need to decentralize climate action, we need to get the young people focused on adaptation, but to do this we need to make sure that their capacities are built and we need to channel funding to catalyze their actions," Alugnoa said.

Emily Vernall, 23, based in Cambridge, United Kingdom, where she studies, said "For me, I think success means taking this ambition and innovation and using it as a positive disruptor in climate action. I think adaptation has this potential to recenter the focus on youth and women, girls, communities on the frontline, which perhaps more traditional climate action doesn't, and I think that's vital to our success."

For Rory Mondshein, 29, from the United States, stakeholders must be incentivized to address climate change and focus on adaptation.

"I think we should…focus on the economics of exclusion and how it costs more money for people to neglect the climate than it does for them to invest in climate, because there are people who profit from climate degradation and I think that when we don't acknowledge that, then we're contributing to the problem," Mondshein said.

Manal Bidar, 18, from Morrocco, said that in climate adaptation, success involves providing opportunities for young people.

"The heart-breaking news is that…young people are not having enough opportunities to engage and get involved in the decision-making processes or in negotiations. For example, there are a lot of climate-focused negotiations that happen but young people are not included at the table," Bidar said.

Irfan Ullah, 28, from Pakistan, presented the Panel's plan for advocacy, awareness raising and capacity building and resource development.

The Panel intends to advocate for meaningful youth leadership and inclusion and engage in the education and resilience building of vulnerable communities while focusing on nature-based and indigenous knowledge about adaptation. They also seek to use GCA as a bridge to approach regional funding bodies to implement youth initiatives, among other actions.

Hayley Payne, 26, from Australia, presented the Panel's operational timeline during their one-year period of service. Payne said that the Panel plans to create a toolkit for young people to get involved in adaptation as well as an in-person training for panel members to build meaningful regional events. The year will conclude with a stocktake and case study showcase about everything that the Panel worked on, she explained.

For more information about GCA's Youth Advisory Panel or the Youth Adaptation Network, please contact Adriana Valenzuela at youth@gca.org.
Related blog posts: