Contact Information
For more information on this program, or to get involved, please contact:
"Connect, Educate, Innovate, Advocate, Participate"
The Youth Leadership Program aims to make young people central to driving the adaptation agenda and implementation worldwide. The program's mission is to mobilize the next generation of adaptation leaders around the world, empowering young people to make the case for adaptation on the global stage and make their communities more climate resilient through action areas like the Youth Adaptation Network, Adaptation Education and Jobs Training, the Youth Adaptation Solutions Challenge, the Youth Adaptation Incubator Fund, Young Leaders, Youth Participation in Adaptation Policy and Young Women Leadership on Adaptation.
Young people from around the world are gathering in Rotterdam to shape the Global Goal on Adaptation. The Global Center on Adaptation and its Youth Advisory Panel are convening the first Global Youth Adaptation Summit to bring together young leaders, decision-makers and experts for the most important youth gathering on adaptation ahead of COP27. Applications are open now until 10th July.
The seven Regional Youth Adaptation Forums will contribute to the review of the Global Goal on Adaptation and bring together young people, youth organizations, policy-makers, global experts and international organizations, with the overall objective of elevating youth voices and increasing the power of influence of young people worldwide in the adaptation agenda.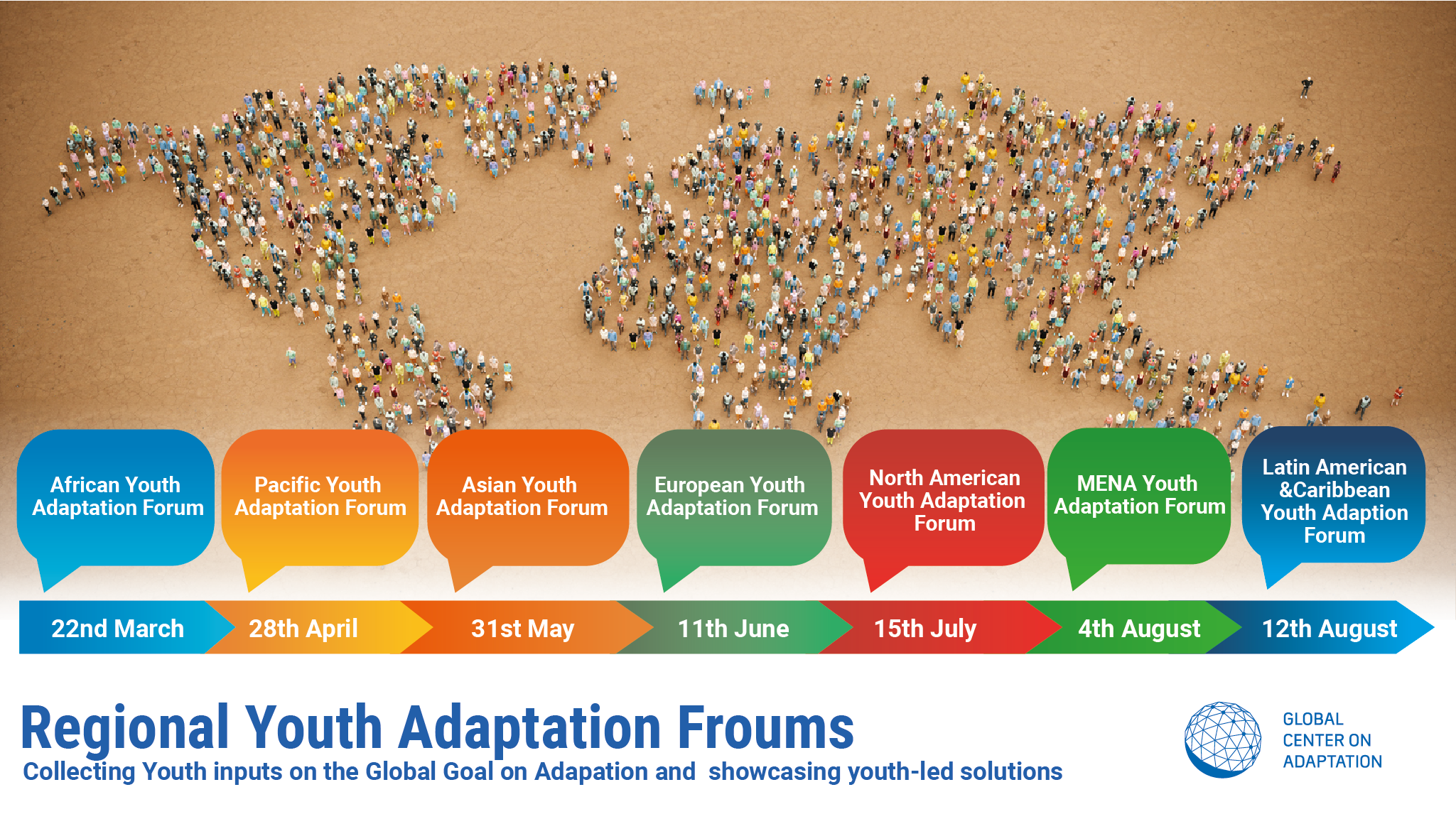 The Youth Adaptation Network (YAN) is piloting a flagship Youth Advisory Panel to provide strategic advice to the CEO of GCA, Prof. Dr. Patrick Verkooijen. The Panel is a twelve (12) member gender-and geographically-balanced group, which provides strategic advice on youth engagement to drive the adaptation agenda.

Goal for 2025
To provide young people with a platform to access adaptation knowledge and campaigning materials while connecting them with leaders and businesses driving the global response to climate change.

Description
The Youth Adaptation Network engages, empowers and amplifies the role of young people in the adaptation agenda. By creating an environment where young people are engaged as equal stakeholders in climate adaptation actions and providing them with learning opportunities, the Youth Adaptation Network translates knowledge into action by engaging and participating in the design and implementation of local and national adaptation plans.
Are you below 35 years? Sign up to become a YAN member and benefit from exclusive adaptation knowledge resources and professional opportunities. Sign up here or email youth@gca.org for further information.
Key partners:
The Youth Adaptation Network is working with partner groups, networks and education institutions in more than 110 countries and always seeking to connect with more.
From June to December 2021, the GCA's Youth Adaptation Network hosted monthly Youth Adaptation Dialogues to provide a platform for youth to lead the way in adaptation action.

The Dialogues focused on topics such as the role of education for locally-led action, climate resilient cities, and gender and climate change. The intergenerational dialogues brought together various stakeholders, including youth activists and experts.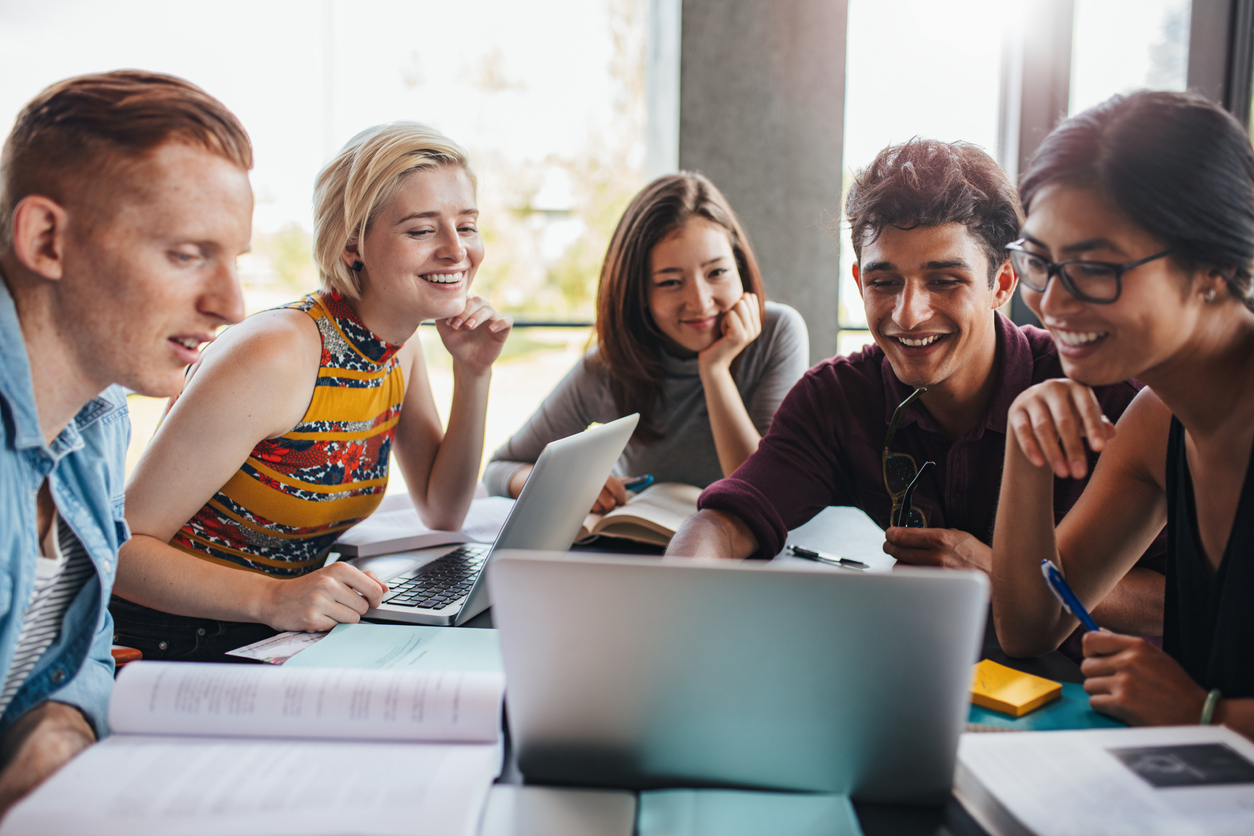 Goal for 2025
To train one million young people in Africa for jobs related to adaptation and climate resilience.
Key partners
Description
GCA will work with the African Development Bank to train one million young people across Africa for jobs related to adaptation and climate resilience by 2025. As part of the Africa Adaptation Acceleration Program, GCA will identify new job streams in adaptation, and partner with technical and vocational training institutions, non-profit organizations and universities to develop research and training related to jobs on adaptation and climate resilience. GCA also will work with UN agencies, governments and other development partners globally to mainstream climate adaptation and resilience into the education policies by integrating them into curricula at all levels of formal education. GCA's scientists, experts and practitioners are also producing training materials, virtual courses and toolkits, to develop the capacities of young people to lead adaptation solutions.
Massive Open Online Course on Climate Adaptation Governance
The University of Groningen/Campus Fryslân, in cooperation with the Global Center on Adaptation, have developed an online course in Climate Adaptation Governance.
Goal for 2025
To train youth for jobs related to adaptation and climate resilience to drive large scale green growth and innovative youth-led adaptation solutions.
Description
The Youth Adaptation Solutions Challenge is a competition and awards program for young people to submit innovative solutions on climate adaptation and resilience through the creation of youth led-green and climate-resilient businesses. The participants in the annual Youth Adaptation Solutions Challenge are between the ages of 18 and 35 and have an interest in climate change adaptation. Winners will receive seed funding, tailored training, coaching and networking opportunities to develop business plans on climate adaptation. The Youth Adaptation Incubator Fund will provide seed funding for the Youth Adaptation Solutions Challenge winners to implement their climate adaptation projects.
Goal for 2025
The Online Executive Training – Young Women Leadership on Climate Adaptation is a virtual educational and capacity-building program that responds to the climate crisis by elevating the leadership of young African women. The 20-week long comprehensive training program is tailored to young African women in influential roles leading and advocating for sustainable solutions, and building resilience to the changing climate, initially in the Democratic Republic of Congo, Egypt, Ghana, Kenya, Nigeria, and Zimbabwe.
For more information on this program, or to get involved, please contact: